Money's on K-State: University again tops magazine's annual ranking of best college values in state
Wednesday, Aug. 15, 2018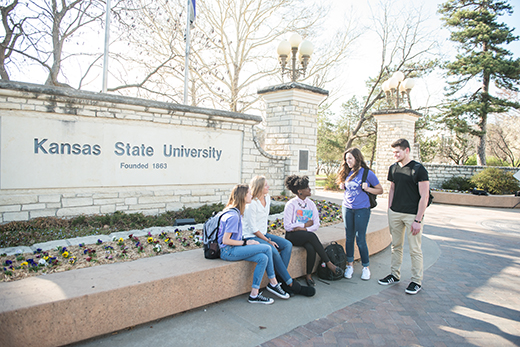 In Kansas, the best educational value is Kansas State University, according to Money magazine's annual ranking. It's the third year in a row the university has earned the magazine's top spot in the state. | Download this photo.


MANHATTAN — For the third year in a row, Money magazine is recognizing Kansas State University as the top university value in Kansas. The ranking is the second in recent months that highlights the university's position as the best educational investment in the state.

Quality of education, affordability and various student outcome factors are used to determine the magazine's best colleges, with Kansas State University taking the top spot among the schools in Kansas that met Money's ranking criteria. Among the areas where the university leads in Kansas is the average starting salary of new graduates. The $50,000 average for a new alumnus of K-State is $500 higher than that for new graduates of the second-place school on the magazine's state list, the University of Kansas.

In May, SmartAsset, a financial services company, rated Kansas State University as the state's best education value for the fourth year in a row.

"As the new provost of Kansas State University, these strong national rankings show me that this university's academic programs are among its many strengths," said Charles Taber. "When our new graduates are commanding the highest average starting salary in the state, it shows they are in demand and are graduating with the education and skills that employers seek. I look forward to doing all I can to help K-State continue as the best educational value in the state and to help further build its brand as a national educational value."

The No. 1 choice of Kansas high school graduates, Kansas State University's most recent postgraduation survey shows a 95-percent placement rate in students securing a job or continuing their education. The university, which offers more than 250 majors and options, makes affordability a priority, awarding more than $248 million in student aid last year, including more than $38 million in scholarships.

Award-winning faculty and key student services, such as K-State First, the university's first-year student success program, and the Career Center, which last year brought more than 800 employers to campus to interview students about jobs and internships, are just a few of the ways K-State helps students stay on track to degree completion and be career ready once they graduate.

K-State also ranks highly with its students, according to the latest survey by The Princeton Review, which rates K-State No. 4 for best quality of life, No. 6 for best athletic facilities, No. 7 for best health services and No. 8 for happiest students. Students also love the university's home, in Manhattan, rating K-State No. 3 in the nation for great town-gown relations.