Kansas State University Polytechnic Campus partners with Air Force Junior ROTC to help train young pilots
Thursday, Aug. 2, 2018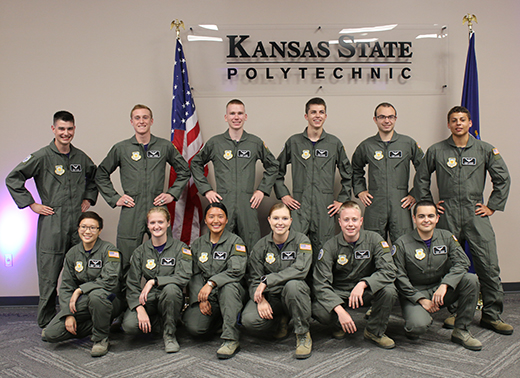 The Kansas State University Polytechnic Campus is a partner school in the Air Force Junior ROTC's new chief of staff of the Air Force scholarship program, Flight Academy, helping 12 cadets earn their private pilot certificate this summer. Front row, from left: Tiffany Swallow, Emma Rick, Angela Xiong, Alexis Ehlbeck, Brooks Franklin and Tomas Frances. Back row, from left: Sebastian Wolf, Dylan Snedeker, Carson Beck, Koby Battema, Aaron Falk and Angelo Wilder. | Download this photo.


SALINA — The Kansas State University Polytechnic Campus has joined a new aviation initiative created by the Air Force Junior ROTC that is aimed at boosting enthusiasm for flying among high school students as well as contributing to the industry's pilot shortage solution.
Kansas State Polytechnic is a partner school in the Air Force Junior ROTC's Flight Academy, a scholarship program awarded by the chief of staff of the U.S. Air Force for the first time this summer that assists cadets with earning their private pilot certificate at an accelerated pace. The campus is one of six institutions across the country hosting students and providing their flight training. Out of the 800 who applied, 120 cadets were accepted into the inaugural program with 12 participants landing at Kansas State Polytechnic.
The idea for Flight Academy first was conceived as a way to address the Air Force's ongoing aircrew shortage. While high school students enrolled in Junior ROTC and selected for the program are not required to commit to a military track, the initiative hopes to inspire an interest in aviation that eventually leads to a career in aviation — either military or civilian — and an overall positive effect on the nationwide pilot shortage dilemma. Flight Academy also addresses the aviation community's diversity concern: 55 percent of those who applied for the 2018 scholarships are female or minority cadets.
"Supporting the advancement of aviation education, especially in youth, has always been an important priority to Kansas State Polytechnic and we're proud to be collaborating with an organization that has such a positive influence over young people's lives," said Bill Gross, chief flight instructor and aviation professor at Kansas State Polytechnic. "Learning to fly is challenging and requires focus, but it has the ability to open doors and transform someone's future. We're excited to spark a passion for aviation in these students and help set them on a path to personal and professional success."
Beginning June 11, Air Force Junior ROTC cadets were on campus for seven weeks working toward their private pilot certificate. They attended ground school three hours a day, Monday through Thursday, and were in the cockpit flying at least two times a day, several days a week. The young aviators learned about such topics as federal aviation regulations, aerodynamics, aircraft performance, weight and balance, weather and navigation, and the systems on an airplane.
Because they stayed in the residence halls, cadets also got the opportunity to build camaraderie and experience typical collegiate student life, participating in off-campus outings, late-night study sessions and recreational events. They even met with Kansas State University President Richard Myers, eating dinner with him at his home on the Manhattan campus. Myers is a retired four-star Air Force general and former chairman of the Joint Chiefs of Staff. A K-State alumnus, his military career began as a member of the university's Air Force ROTC program.
The cadets' last day at Kansas State Polytechnic was July 27 when they were honored for their achievements in front of family and friends at a closing ceremony. At the event, they wore their official Air Force flight suits and received a completion certificate from Kansas State Polytechnic as well as a wings patch from the Air Force Junior ROTC.
"I want to thank Kansas State University and the Polytechnic Campus for stepping up, taking a chance and investing in a new program that develops young people and gets them interested in aviation," said Todd Taylor, retired Air Force colonel and director of program development for the Air Force Junior ROTC, at the closing ceremony. "Being a pilot changes you — the way you think and react to different situations. Because of this program and the training that was received, the manner in which these cadets take on missions and take on life is forever strengthened. I am so proud of your hard work, determination and your success."
Contingent on funding, Flight Academy will grow exponentially in the coming years. This year, the Air Force awarded 120 scholarships, and if financing continues, will grow to 250 in summer 2019, and 500 in summer 2020. Plans also could open the program to Army, Navy, and Marine Junior ROTC programs as well as Civil Air Patrol cadets by 2020.
Kansas State Polytechnic was chosen as a partner school in the Flight Academy initiative because of its accreditation with AABI, the Aviation Accreditation Board International, and the university's Air Force ROTC program. To learn more about the professional pilot bachelor's degree option at Kansas State Polytechnic, contact admissions at 785-826-2640 or polytechnic@k-state.edu.