Leading the way: Survey finds Kansas State University provides best value for educational buck in Kansas
Tuesday, May 15, 2018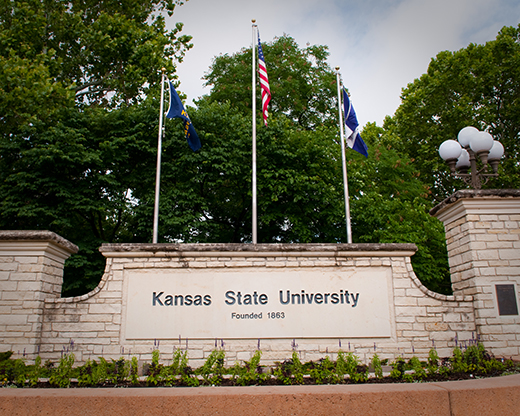 According to a survey by SmartAsset, Kansas State University is the top educational value in Kansas for the fourth year in a row. In the survey, the university's average starting salary of new graduates and student retention rates were tops in the Sunflower State.

MANHATTAN — For the fourth year in a row, Kansas State University tops a national study of the best educational value in Kansas.

The study by SmartAsset determines which schools provide the best bang for the educational buck based on tuition, living costs, average scholarships and grants, starting salary upon graduation, and retention rates. In the Sunflower State, the study found Kansas State University to be the best value among the 10 schools surveyed. SmartAsset is a financial data and technology company.

"It comes as no surprise that the university in Kansas that provides the best return on investment also is the No. 1 choice of Kansas high school graduates," said Pat Bosco, Kansas State University vice president for student life and dean of students.
According to SmartAsset, Kansas State University graduates are earning the highest starting average salary among the Kansas schools at $50,000, which is up $1,700 from last year's state-leading $48,300 starting salary. That increase also dovetails with the university's latest postgraduate report, which finds that 95 percent of Kansas State University's 2016-2017 graduates were employed or continuing their education within six months of their graduation.

"Year after year, our graduates are in demand by employers and professional schools as shown by our high job placement and continuing education rates," Bosco said. "To achieve this high output is a recognition of the excellent teaching and academic culture offered by K-State, which is designed to bring out the best in our students."

Kansas State University also has the highest student retention rate in the state at 85 percent, which is 4 percentage points higher than the second-place school. Student retention is a priority and the university's high retention rate shows the success of K-State First, the university's first-year student success program. The university also offers other programs and services for student success, such as First Scholars for first-generation students, the Academic Assistance Center and the Career Center. In addition, Kansas State University students receive more than $230 million in financial aid each year.

Other Kansas schools surveyed by SmartAsset include the University of Kansas, Washburn University, Baker University, Pittsburg State University, Mid-America Nazarene University, Fort Hays State University, Wichita State University, Emporia State University and Southwestern College.