Stock Pitch Challenge awards $10,000 for student stock analysis
Thursday, April 5, 2018
The winners of the K-State Stock Pitch Challenge and the $5,000 grand prize, Zachary Case, left, and Kyle Fleming. | Download this photo.


MANHATTAN — A new competition designed to put students' stock analysis skills to the test has awarded $10,000 in prize money to 13 Kansas State University students.

The K-State Stock Pitch Challenge, sponsored by Gates Capital Management, asked teams of two to four students to source and research their best stock investment idea. The contest, which was open to all majors at the university, saw 55 teams compete with members representing 31 different majors from around the university.

Teams were asked to submit a written report of their analysis, considering both the qualitative and quantitative aspects of their chosen company. Based on those reports, the top five teams were selected to present their analysis to a panel of judges comprised of investment professionals and compete for the $10,000 in prizes.

"Thanks to the support of our wonderful alumni, Mr. Jeff Gates, we were able to launch the inaugural Gates Capital Management Stock Pitch Challenge," said Ansley Chua, associate professor and head of the finance department. "This challenge provided our students a unique opportunity to apply the theories they are learning in the classroom and be evaluated by judges with real-world investment experience."

In the end, it was the team of Kyle Fleming, senior in finance, Formoso, and Zachary Case, senior in finance and accounting, Olathe, who took home top honors and the $5,000 first place prize for their pitch of Fortune Brands Home & Security Inc.

"It was fun to bring everything we've been learning in our classes together in an applied way to present our ideas in front of a crowd," Fleming said. "It was great to be able to get feedback from all of the investment professionals and alumni judges."

Two teams finished in a tie for second place, with each receiving $2,500: the Eco Oil and Gas team of Cooper Kinley, sophomore in finance, Leawood, and Regan Mathes, junior in economics and finance, Dallas, Texas; and the Snap-On team of Morgan Ziegler, junior in finance, Junction City, Samantha White, junior in finance and apparel and textiles, Leavenworth, Al Basha, senior in finance, Manhattan, and Davilyn Rohr, senior in finance, Glendale, Arizona.

The remaining two finalist teams included the pair of Austin Chauncey, junior in mathematics and computer science, Manhattan, and Melanie Wertzberger, junior in finance, Hiawatha, Iowa; and the team of Ashley Ebeck, senior in finance and accounting, Paola, Drew Bormann, senior in finance and economics, Stilwell, and Brendan Mousley, senior in finance, Wichita.

"We appreciate being able to help students learn about the investment process and become more passionate about investing," said Jeff Gates, managing partner of Gates Capital Management. "Further, we appreciate what we learn from our interaction with some of K-State's best and brightest students. We were generally impressed with the presentation skills exhibited. The analysis hit on many of the things we consider as we analyze investments at our fund. The best students at K-State are capable of being very competitive in analyst and money management careers and we are very happy to have three of them at our firm currently."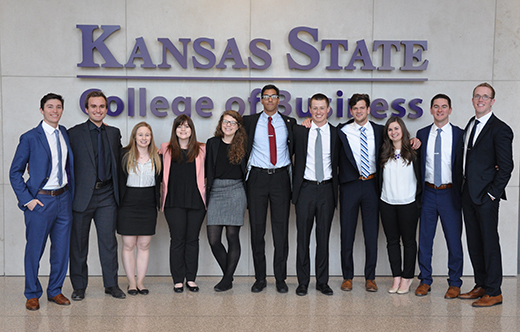 The finalists for the inaugural K-State Stock Pitch Challenge, sponsored by Gates Capital Management.