Kansas Entrepreneurship Challenge awards $75,000 to student entrepreneurs
Friday, April 27, 2018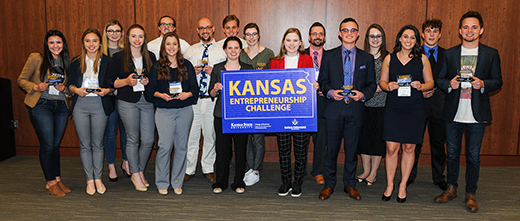 The finalists in the Kansas Entrepreneurship Challenge at Kansas State University. | Download this photo.


MANHATTAN — A student entrepreneurship competition featuring 44 high school and 11 collegiate teams from across the state has awarded entrepreneurial-minded students with $75,000 in prize money.

The Kansas Entrepreneurship Challenge gave students from around the state experience in the process of making a business proposal. The fifth annual event is organized by the Kansas State University Center for the Advancement of Entrepreneurship and was sponsored by the Kansas Masonic Foundation.

"Masonry teaches brotherly love, relief, truth and charity," said Rick Ryan, executive vice president of the Kansas Masonic Foundation. "We see this event as an opportunity for the Kansas Masons to extend our charitable mission to help young people build businesses that are going to help the state's economy and be beneficial to all Kansans."

In the opening round of the competition, teams delivered a four-minute quick pitch of their business to a panel of judges that consisted of entrepreneurs, bankers and investment experts. From those pitches, the judges selected four high school finalists and four collegiate finalists, who each then had the opportunity to give another pitch, followed by a question-and-answer session with the judges.

"The future is in great hands with what we saw today," said Robert Talbott, current grand master of the Kansas Freemasons. "I was blown away by the maturity and poise on display by all of the students, especially at the high school level, and was particularly impressed with the innovative ideas on display."

In the collegiate division, Kansas State University's Austin Chauncey, senior in mathematics and computer science, Manhattan, and Melanie Wertzberger, senior in finance, Hiawatha, Iowa, were awarded the $15,000 grand prize for their pitch of AdviseMe, a computer application that looks to improve the academic advising process at colleges and universities.

"The competition was a great experience and the judges all had great feedback and suggestions," Chauncey said. "Understanding the key factors that are important to investors makes a huge difference in pitching a business. The funding we received will be great help for us to ingrate K-State login and some restructuring on our backend. We hope this will speed up our development so we can take our product to market as soon as possible."
Jared Goering, Spencer Steinert and Ryan Becker from Wichita State University, Wichita, were awarded $10,000 for their second place pitch for Cy5, a next-generation wearable that tracks users' biometric information.

In third place were Josie Eck, Eric Katzenmeier, Sarah Jones and Hannah Hund, also from Wichita State, who took home $7,500 for their pitch of Nervii, a surgical tool designed to help surgeons see and avoid nerve endings.

Rounding out the collegiate finalists was the team of Kailey Pearson and Brittan Brennar from Pittsburg State University, Pittsburg. Their pitch for Sonder & Co., an online and retail marketplace for local artisans to sell their products, was awarded $5,000.

In the high school division, Nicholas Flores from Wichita East High School, Wichita, was awarded the $5,000 grand prize. His business, Kestral Aerial, uses drone technology to take aerial photos and videos for real estate and other commercial uses.

In second place was Bridget Stanton from Gloria Deo Academy, Manhattan, who took home $4,000 for her pitch of Bridge Digital Marketing, which helps small business owners with targeted digital and social media marketing plans.

Sarah Clausen, Caitlin Low and Wyntr Jacobs from Southeast High School, Cherokee, won $3,000 for their third-place pitch of Live Oriental, a meal-prep delivery kit featuring Asian-fusion ingredients.

The final high school finalists were the team of Cole Srajer and Max Svoboda from Centre High School, Lost Springs. Their pitch for Cole's Cards, an online sports trading cards business, was awarded $2,000.