Kansas State University research team wins R&D 100 Award for wearable radiation detection technology
Wednesday, Jan. 3, 2018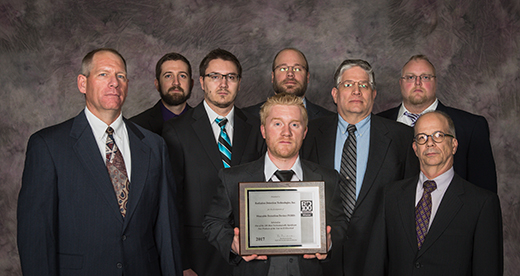 Technology from Kansas State University won a 2017 R&D 100 Award for a vest that helps the wearer blend into the environment while detecting dangerous radiation. The project's researchers, from left, front row: Russell Taylor, Ryan Fronk and Douglas McGregor; middle row: Logan Whitmore and Tim Sobering; and back row: Taylor Ochs, Steven Bellinger and Luke Henson. | Download this photo.


MANHATTAN — A Kansas State University research team has won a 2017 R&D 100 Award for a vest specially designed to contain devices that detect illicit nuclear material. This is the team's fifth award since 2005 for one of the year's 100 top technologies awarded by R&D magazine.

Douglas McGregor, university distinguished professor of mechanical and nuclear engineering, led the team of Kansas State University, industry and government contributors to develop a vest designed to contain multiple gamma ray and neutron detectors. The garment allows the wearer to blend into the environment while detecting dangerous radiation, and the general direction of its origin, with wired or wireless small, lightweight, modular detectors that operate for weeks at a time.

"Our vest is innovative because it's the first of its kind that is built to be wearable, clandestine and integrated so that it's hands-free," McGregor said.

The functional garment is the result of collaborative efforts to develop radiation detector technologies while ensuring that all components and the vest could be manufactured and mass-produced. The project was funded by the Defense Threat Reduction Agency. Contributors included Radiation Detection Technologies Inc.; Kansas State University's Semiconductor Materials and Radiological Technologies Laboratory, or SMART Lab, and Electronics Design Laboratory; and Alion Science and Technology Corporation. SMART Lab faculty and graduate students designed the detectors; Electronic Design Laboratory staff and students built the electronics; Radiation Detection Technologies integrated the products; and Alion produced the communications protocols and software, along with McGregor's students.

The project group also worked with Emily Pascoe, a doctoral student in the apparel, textiles, and interior design department at Kansas State University. Pascoe's expertise ensured that the team used the correct fabric, notions and construction methods for the vest.

The coveted R&D 100 Award emphasizes the bringing of inventions from their initial concepts on the blackboard, through research and development, and into the commercial marketplace.

"A lot of inventions are good but they never go past publishing a paper," McGregor said. "Our invention is in commercialization. I enjoy the pure sciences, but I keep my eye on practicality."

According to McGregor, the character of Kansas State University students along with the availability of in-house electronics design expertise have bolstered his group's success and ability to compete for the R&D 100 Award alongside national labs, large multinational corporations and top universities.

"I credit the students and people I work with," McGregor said. "The work ethic I've encountered and the fact that the Electronics Design Laboratory is next door — if I didn't have a shop like that next door, I don't know how successful we would have been. All these things come together to give us the success we have now."

The project has been in development for three years.

Ryan Fronk, research associate in mechanical and nuclear engineering, completed his doctorate in May 2017 and worked on the project as a student. He started by designing and simulating the original concept of the vest while investigating the standards for detection technologies in an effort to meet or exceed them. Packaging design for the detector devices was a major hurdle. Logan Whitmore also worked on the project as a student while finishing his degree. As an Electronics Design Laboratory employee, he worked on the electronics for the devices.

"A challenging aspect was meeting the low power goals for the devices," Whitmore said. "We had to extend the life and ranges of both wired and wireless devices with lots of technologies that were fun to use."

Another Kansas State University alumnus, Steven Bellinger, is the founder and CEO of Radiation Detection Technologies. His company specializes in commercializing novel technologies developed at the university. Bellinger holds five U.S. patents on detector designs and has more pending. He said developing a reliable, marketable product is paramount.

"We ask how we will put this together to meet the user's needs in terms of size, profile, duration, how it fits, the weight — and we need it to be economical," Bellinger said. "The Department of Defense will buy only so many, so we look to see what other sectors we can service such as nuclear power and health care. We have demonstrated the technology in Japan and Hawaii as well as Washington, D.C."

Commercializing technology is known as traversing the Valley of Death. According to Taylor Ochs, doctoral student in nuclear engineering, the analogy is apt because the process is never simple. Working on the project has helped him understand how large collaborations come together as he completes his individual tasks.

"A lot of what I did was the first assembly stage testing," Ochs said. "If I plug in nine parts, do they work? If I plug in 10, do they work? We have to troubleshoot and fix them. You've got to be able to learn from and accept failures. You run into the wall, break through, and there's another wall behind it, but you end up with a well-developed system," he said.