Kansas State University student receives national Marshall Scholarship
Monday, Dec. 4, 2017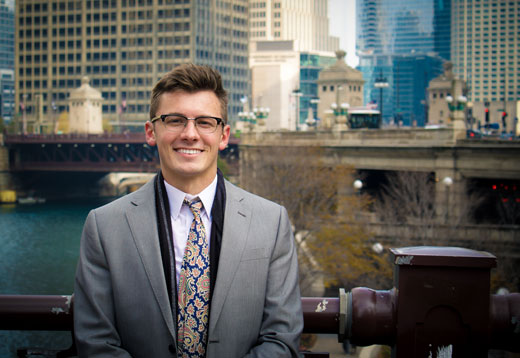 Garrett Wilkinson, Kansas State University senior in nutritional sciences and pre-medicine, Hutchinson, is one of about 40 American students to receive the Marshall Scholarship. | Download this photo.


MANHATTAN — Garrett Wilkinson, senior in nutritional sciences and pre-medicine, Hutchinson, has received a Marshall Scholarship for graduate study in the United Kingdom.

"As the nation's first operational land-grant university, Kansas State University has a long history of empowering students like Garrett to compete for national scholarships," said President Richard Myers. "Garrett's extensive leadership experiences make him well qualified for this prestigious scholarship, which helps students fortify leadership skills and strengthen international relationships between the U.K. and the U.S."

Marshall scholarships are awarded to about 40 American students each year by the British government as an expression of gratitude and as a means of continually strengthening the ties between the U.K. and U.S. The scholarship provides full funding for one or two years of study in the U.K., which Wilkinson said he plans to use for a master's degree in public health at the London School of Hygiene and Tropical Medicine and a master's degree in medical anthropology at the University of Oxford.

"The Marshall Scholarship will give me an opportunity to continue my education in the U.K. and put me on track for pursuing a career at a public health institution such as the U.S. Centers for Disease Control or the World Health Organization," Wilkinson said. "I would ultimately like to help governments build health systems that confer and successfully deliver health care as a right to their citizens."

A leader in several international activities, Wilkinson is director of special projects for the Open World Cause, an organization that helps support educators in Nepal and Kenya, and provides school nutrition programs and purified water for communities. The organization recently partnered with Microsoft's Skype in the Classroom to establish a 20-classroom, cross-cultural learning project between American and Kenyan students.

In the 2015-2016 academic year, Wilkinson founded and was president of RESULTS K-State, an organization that teaches others how to lobby Congress and advocate for domestic and international antipoverty policies. He is a teaching assistant for Introduction to Cultural Anthropology with Michael Wesch, associate professor of anthropology. Wilkinson also is a member of the University Honors Program and a member of Delta Sigma Phi fraternity. He has interned with Partners in Health in Boston and the U.S. Agency for International Development in Zambia. He also has worked with the Food Recovery Network at Kansas State University and been a guitarist for the choral program.

As an undergraduate researcher, Wilkinson has worked with many K-State faculty members. He is currently researching the micronutrient bioavailability and protein quality of food aid products with Brian Lindshield, associate professor of food, nutrition, dietetics and health. In addition, advised by Brandon Irwin, assistant professor of kinesiology, Wilkinson and colleagues received a $25,000 grant from the Kansas Health Foundation to develop a model for communicating about local health inequities and the social and economic causes in the Manhattan community. He also researched malnutrition in Nepal and school lunch programs and food availability in Kenya.

Wilkinson has received the College of Human Ecology Hannah Bluemont Scholarship; Child and Family Health International Thomas Hall Scholarship; Prins-McBride Scholarship; Marjorie J. and Richard L. D. Morse Family and Community Public Policy Scholarship; Mark Chapman Scholarship; Kansas State University Civic Leadership Scholarship; and the Nancy Landon Kassebaum Scholarship. He also won Kansas State University's SPARK Tank Undergraduate Research Competition in 2016. A 2014 graduate of Buhler High School, he is the son of Victor and Angela Wilkinson, Hutchinson.