Fall commencement: More than 1,500 earning degrees from Kansas State University; ceremonies Dec. 8 and 9
Thursday, Nov. 30, 2017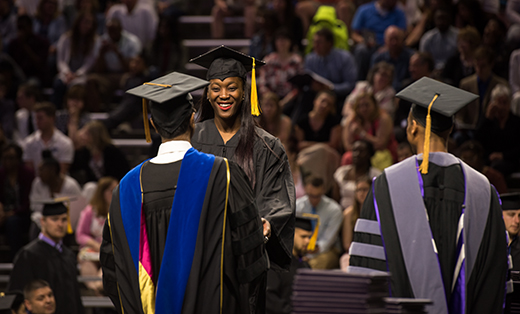 More than 1,500 students are candidates for degrees this fall from Kansas State University. Commencement ceremonies will be Friday, Dec. 8, on the Manhattan and Polytechnic campuses, and Saturday, Dec. 9, on the Manhattan campus.

MANHATTAN — It's pomp and circumstance time at Kansas State University with fall commencement ceremonies set for Friday, Dec. 8, and Saturday, Dec. 9. Commencement speakers include an award-winning National Geographic photographer, the mayor of Salina and the poet laureate of Kansas.

More than 1,500 students are candidates for degrees. To be awarded will be more than 1,300 bachelor's degrees, 240 master's degrees and nearly 50 doctorates. Around 170 of the degree candidates are distance education students.

A live webcast of the ceremonies will be available at k-state.edu/graduation/.

Ceremonies kick off with commencement for the Graduate School at 1 p.m. Dec. 8 in Bramlage Coliseum. At the ceremony, Jim Richardson, photographer for National Geographic magazine and its sister publication, TRAVELER, will be awarded an honorary doctorate from the university. Richardson, from Lindsborg, also will serve as the commencement speaker. The Kansas Board of Regents will be represented at the ceremony by Regent D. Shane Bangerter, Dodge City.

Commencement for Kansas State University Polytechnic Campus in Salina will be at 7 p.m. Dec. 8 in the campus's Student Life Center. Commencement speaker will be Kaye Crawford, mayor of Salina.

All ceremonies on Dec. 9 will be in Bramlage Coliseum on the Manhattan campus. The schedule of ceremonies and speakers:

• College of Arts and Sciences, 8:30 a.m., with Kevin Rabas as commencement speaker. Rabas, a Kansas State University alumnus, is chair of the English, modern languages and journalism department at Emporia State University, Emporia, and poet laureate of Kansas.

• College of Education, 10 a.m., with Sally Yahnke, associate professor of curriculum and instruction, as commencement speaker. Yahnke is a longtime faculty member of the college, serving as teacher educator for family and consumer sciences education and coordinator for career and technical education.

• College of Business Administration, 11:30 a.m., with Michael W. Upchurch as commencement speaker. Upchurch, a Kansas State University alumnus, is executive vice president and chief financial officer of Kansas City Southern, a transportation holding company based in Kansas City, Missouri, with railroad investments in the U.S., Mexico and Panama.

• College of Agriculture, 1 p.m., with Chad Miller, associate professor of horticulture and natural resources, as commencement speaker. Miller is the recipient of the 2017 U.S. Department of Agriculture's Best New Teacher Award for Food and Agricultural Sciences.

• College of Human Ecology, 2:30 p.m., with Sonya Britt-Lutter, associate professor of personal financial planning, as commencement speaker. Britt-Lutter is a certified financial planner with training in marriage and family therapy. Her research has appeared in the New York Times, Wall Street Journal, Kiplinger's and other publications.

• College of Engineering, 4 p.m., with James M. Johnson as commencement speaker. Johnson, a Kansas State University alumnus, is president and CEO of GE Johnson Construction Co., a commercial general contractor based in Colorado Springs, Colorado.

A virtual commencement ceremony is available at global.k-state.edu/commencement for distance education students unable to attend their commencement ceremony in person. The website includes a listing of students earning degrees through distance education, a place for family and friends to post congratulatory messages and other commencement-related offerings.

DVDs of the ceremony may be ordered through the K-State Campus Store in the K-State Student Union at 785-532-6583. The DVDs are $14.95 and delivery normally takes four to six weeks.

Related to commencement will be commissioning ceremonies for Kansas State University's Army and Air Force ROTC units. The Army ROTC ceremony will be at 10 a.m. Dec. 8 in Forum Hall at the Union. The Air Force ceremony will be at 8 a.m. Friday, Dec. 15, in the Marietta Room in Gen. Richard B. Myers Hall.