College of Veterinary Medicine at Kansas State University announces 2017 class of Early Admission Scholars
Wednesday, Nov. 1, 2017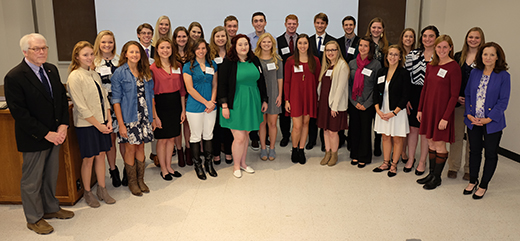 The Kansas State University College of Veterinary Medicine's 2017 class of Early Admission Scholars, front row from left: Ronnie Elmore, the college's associate dean for admissions and diversity programs; Bailey Pyle; Amanda Tlacil; Samantha Jansen; Cori Hough; Amelia "Amy" Finn; Taylor McAtee; Angela Gaggiano; Shelby Abts; Hanna Westermier; Halle Kloefkorn; Margo Wottowa; and Bonnie Rush, dean of the college. Back row from left: Abigail Gibbons; Nathan Jackson; Allianna Mitchell; Emma Hawkins; Alexis Fenton; Rachael Peterson; Walter Meyers; Douglas Farleigh; James Osborn; Joseph Kempin; Dylan Albers; Molly Reilly; Annaliese Colacicco; Katherine Stenger; and Hannah Tice. Not pictured is Levi Gauby. | Download this photo.


MANHATTAN — A group of 27 Kansas State University undergraduate students will have a special opportunity to fulfill their dreams of becoming veterinarians. The College of Veterinary Medicine recognized these students for being selected in its Early Admission Program at a ceremony Oct. 27 in Trotter Hall.

Established in 1999, the Early Admission Scholars program has recruited the best and brightest undergraduate students who are interested in studying veterinary medicine. Upon acceptance in the program, students must complete all of their science prerequisite courses at Kansas State University to be guaranteed admission into the College of Veterinary Medicine.

"Qualifying for this program is very special," said Ronnie Elmore, associate dean for admissions and diversity programs. "These students represent the top 5 percent of Kansas State University students according to their college acceptance test scores. Being selected into the Early Admission Programs gives them the advantage of bypassing the regular applications process, which is very competitive. For only 112 positions in each incoming veterinary class, we usually receive more than 1,000 applications."

Successful candidates in the Early Admission Scholars program must maintain a 3.5 grade point average during completion of the science prerequisites; complete all of their 64 hours of prerequisites by the end of the spring semester before beginning the Doctor of Veterinary Medicine curriculum in the fall; and submit their GRE graduate school entry exam scores.

The College of Veterinary Medicine assigns a veterinary student mentor to each Early Admit Scholar to stimulate career and academic development and provide orientation and access to college activities. The pre-veterinary students attend regular meetings during the academic year to develop a sense of community and share their progress.

The following are in the 2017 class of Early Admission Scholars:

Cori Hough, Derby.

From Greater Kansas City: Abigail Gibbons, Samantha Jansen and Molly Reilly, all from Lenexa; Douglas Farleigh and Joseph Kempin, both from Olathe; and Alexis Fenton, Stilwell.

Taylor McAtee, La Cygne; Annaliese Colacicco, Leavenworth; Rachael Peterson, Leonardville; Hannah Tice, Maize; Levi Gauby, Washington; Bailey Pyle, Westmoreland; and Dylan Albers and Halle Kloefkorn, both from Wichita.

From out of state:

Amanda Tlacil, Canton, Georgia.

From Illinois: Margo Wottowa, Columbia; Allianna Mitchell, Kildeer; and Angela Gaggiano, Lake Zurich; and Katherine Stenger, Williamsfield.

From Missouri: Hanna Westermier, Cole Camp; and Shelby Abts and Amelia "Amy" Finn, both from Kansas City.

From Nebraska: James Osborn, Elkhorn; and Emma Hawkins, La Vista.

Walter Meyers, Smithtown, New York; and Nathan Jackson, Friendswood, Texas.