Kansas State University Fighting for a Cure Day and benefit shirt celebrate university's fight against cancer
Wednesday, Oct. 4, 2017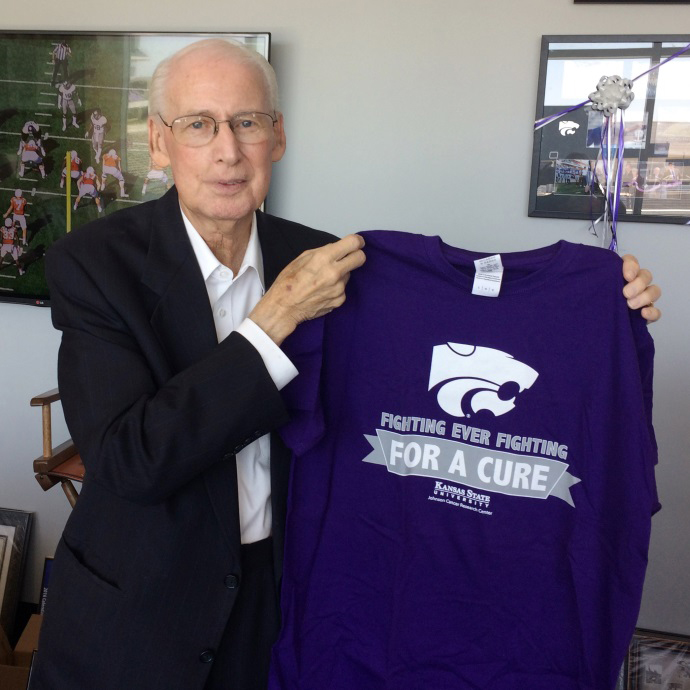 Fighting for a Cure T-shirts are on sale now. Proceeds benefit Kansas State University's Johnson Cancer Research Center.The fourth annual Fighting for a Cure Day will be Saturday, Oct. 14. | Download this photo.


MANHATTAN — Show your pride in Kansas State University cancer research with a Fighting for a Cure shirt, and wear it to the home football game or anywhere Saturday, Oct. 14, for the fourth annual K-State Fighting for a Cure Day.

Join Sharon Snyder, first lady of Wildcat football; Eric Stonestreet, "Modern Family" actor and Kansas State University alumnus; Kevin Lockett, former Kansas State University and Kansas City Chiefs football player; and many others by wearing a K-State Fighting for a Cure shirt to celebrate the university's fight against cancer and honor its cancer survivors and researchers.

The K-State Fighting for a Cure Day celebration will include a halftime tribute by the Kansas State University Marching Band, the Pride of Wildcat Land, and a tailgate party in Cat Town at Bill Snyder Family Stadium.

Fighting for a Cure shirts raise funds and awareness for the university's Johnson Cancer Research Center. The shirts are purple with a white Powercat and the phrase "Fighting Ever Fighting for a Cure," which is inspired by the university's fight song "Wildcat Victory." The shirt campaign has raised around $30,000 for cancer research and training of faculty and students.

The shirts are available for $20 each in unisex, ladies' and youth sizes. They can be purchased in Manhattan at the university's Johnson Cancer Research Center, 1 Chalmers Hall, 1711 Claflin Road, and at G. Thomas Jewelers, 419 Poyntz Ave. They can also be ordered online on the center's website. Shirts will also be sold at the K-State Student Union at 11 a.m. to 1 p.m. Thursday, Oct. 12, and Fri., Oct. 13. More information is available at cancer.k-state.edu or by calling 785-532-6705.

Supporters are asked to join the social media campaign to publicize K-State Fighting for a Cure Day by posting photos of themselves and friends wearing the shirt, and including the hashtag #HelpKStateFightCancer. Photos from the 2016 and earlier campaigns are on the center's Facebook page.

The Johnson Cancer Research Center's programs to support and advance Kansas State University's cancer research and education are made possible by private donations.