Students selected to promote K-State Libraries, educate peers
Monday, Oct. 9, 2017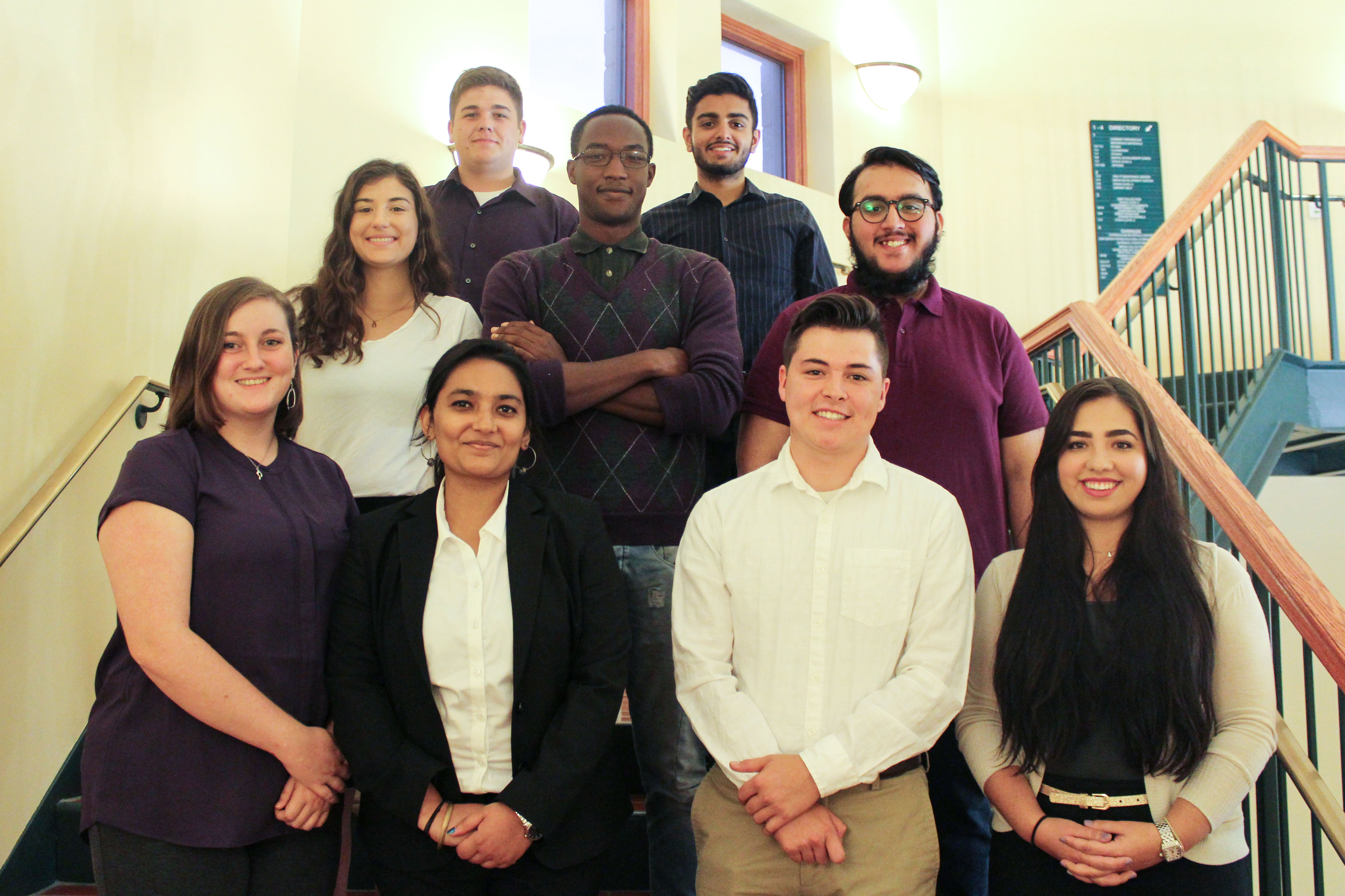 The newest members of the K-State Libraries Student Ambassadors, front row, from left: Brooke Sullivan, Devisha Pandey, Alex Darrow and Michelle Reznikova; second row, from left: Sarah Harper, Jehu Mette and Muhammad Khan; and back row, from left: Matthew Milholm and Ahmad Butt. | Download this photo.


MANHATTAN — Thousands of students spend time studying in Kansas State University Libraries, and about 60 students find part-time work there every year. But a select group is going above and beyond to promote K-State Libraries as volunteers.

Nine students from a wide range of majors and at both the undergraduate and graduate levels have been selected through a competitive process to join the ranks of the K-State Libraries Student Ambassadors.

Ambassadors serve two-year terms as advocates and representatives for K-State Libraries at social, cultural and recruitment activities. They also provide valuable feedback on K-State Libraries' initiatives and services, as well as advocate for the perspectives of the larger university student body. The ambassador program provides students with leadership skills, professional connections and the opportunity to make a positive impact at the university. For more information about the program, visit lib.k-state.edu/ambassadors.

The ambassadors were chosen following an application period and finalist interviews. The interview committee included advisers Zain Iqbal, user services specialist; Sara Kearns, academic services librarian; Katie Lynn, acquisitions librarian; and Darchelle Martin, public relations officer. They were joined by three of the group's current members.

"We're proud to have an amazingly diverse group," Martin said. "Our students range from first-years through doctoral candidates, and they're studying a broad range of disciplines. That's helpful because the ambassadors have become an integral part of how we present K-State Libraries at community and recruitment events and how we make important decisions about programming and services."

The following students are new K-State Libraries Student Ambassadors for 2017-2019:

Alex Darrow, senior, operations and supply chain management, Hutchinson; Brooke Sullivan, sophomore in biology, pre-veterinary medicine, Olathe; Michelle Reznikova, senior, kinesiology and pre-nursing, Overland Park; and Sarah Harper, freshman in public relations, Winfield.

From out of state: Matthew Milholm, sophomore in agricultural education, Katy, Texas.

From out of country: Jehu Mette, doctoral student in economics, Abidjan, Cote D'Ivoire; Devisha Pandey, freshman in computer science, Delhi, India; Muhammad Khan, sophomore in biology and pre-medicine, Jeddah, Saudi Arabia; and Ahmad Butt, sophomore in mechanical engineering, Dubai, United Arab Emirates.