Kansas City art sale to benefit tallgrass prairie friends, education program
Wednesday, Sept. 27, 2017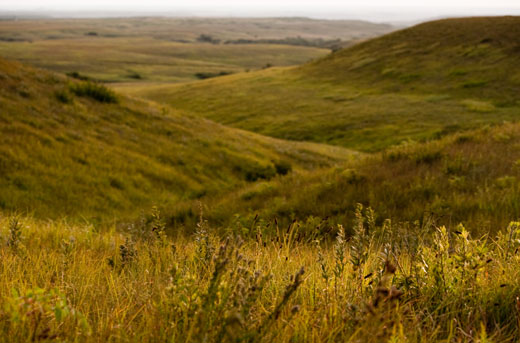 Buttonwood Art Space in Kansas City, Missouri, will feature art showcasing the tallgrass prairie ecosystem as part of a benefit for tallgrass prairie education at Konza Prairie. | Download this photo.


MANHATTAN — Art depicting the rolling emerald hills and striking prairie fires of the tallgrass prairie will be part of the ninth annual Vision of the Flint Hills art benefit and sale from Oct. 2 to Nov. 17 at Buttonwood Art Space in Kansas City, Missouri.

The gallery exhibition will include art from and inspired by Kansas' Flint Hills region, including the Konza Prairie Biological Station, a part of Kansas State University. Opening night of the art sale, featuring the diminishing ecosystem, will be from 6-9 p.m. Friday, Oct. 6, at Buttonwood Art Space, 3013 Main St., Kansas City, Missouri, in conjunction with the KC Crossroads Art District's First Friday Art Walk. Admission is free and sales will benefit the artists and tallgrass prairie education in the Flint Hills.

Fifty percent of the proceeds from sales will go to Friends of Konza Prairie, a nonprofit organization that supports the Konza Environmental Education Program, or KEEP, at Konza Prairie Biological Station south of Manhattan.

"This art sale has a chance to make a major difference to both the Friends of Konza Prairie and to the Konza Environmental Education Program," said Jill Haukos, the program's education coordinator. "Friends of Konza Prairie financially supports KEEP, which means more opportunities to share the tallgrass prairie and its ecology, history, biology and geology with the kids of the Flint Hills."

In the spirit of supporting education, the exhibit also will feature QR codes that link to tallgrass prairie ecological information. According to Haukos, only 4-5 percent of native tallgrass prairie remains in North America. The education program and the friends group help educate the public about the value of the ecosystem, an important part of the mission of Konza Prairie, an 8,600-acre native tallgrass prairie research station jointly owned by Kansas State University and The Nature Conservancy.

"Konza Prairie has a threefold mission of long-term ecological research, education and prairie conservation," Haukos said. "Managed by the university's Division of Biology, Konza Prairie is part of the most intact representation of the environment that once covered the Great Plains."

With hands-on ecological research, the education program strives to instill in students a sense of pride of place and awareness of the beauty of this ecosystem, Haukos said. Research conducted by the Division of Biology is used to share the importance of grassland conservation and management with the public.