New Beach Museum of Art exhibition looks at boundary-crossing experiences of artists Artemio Rodríguez and Fidencio Fifield-Perez
Thursday, Sept. 28, 2017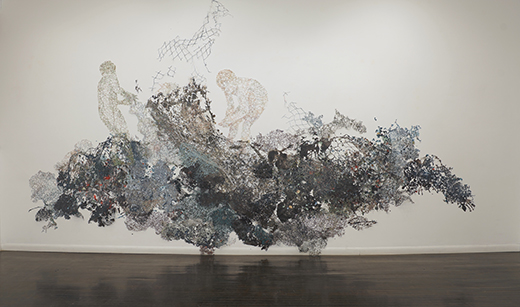 Fidencio Fifield-Perez's "Surge," 6 feet by 16 feet, uses cut maps, collagraph prints, map pins, acrylic and ink. The work was completed in 2015. | Download this photo.


MANHATTAN — The complexity of cultural, political and physical borders is explored through the work of two nationally recognized artists in the new exhibition "Fronteras/Frontiers," which runs Oct. 7 through April 1, 2018, in the Donna Lindsay Vanier Gallery at Kansas State University's Marianna Kistler Beach Museum of Art.
"The artists of 'Fronteras/Frontiers,' Artemio Rodríguez and Fidencio Fifield-Perez, express a sense of identity that is grounded and articulate in more than one cultural setting," said Katherine Schlageck, associate curator of education at the Beach Museum of Art. "Bilingual, bicultural and employing different artistic genres, Rodríguez and Fifield-Perez convey hard and beautiful truths about their own boundary-crossing experiences."
Rodríguez is a master printmaker, illustrator and the founder of La Mano Press, a publishing press, workshop space and gallery dedicated to contemporary printmaking. Based in Pátzcuaro, Mexico, Rodríguez brings his craft and community values to the public through the Graficomovil, a mobile gallery and printmaking workshop that welcomes all ages. Rodríguez is a Creative Capital awardee for visual arts and a recipient of the Kala Art Institute Fellowship and a Durfee Foundation Grant.
"Artemio Rodríguez's work is a wonderful example of a continuing tradition of Mexican printmakers using their art to promote social awareness," Schlageck said. "We are especially excited about the chance to share the artist's Graficomovil with the K-State campus, the Manhattan community, and with Spanish and Visual Art classes at Manhattan High School."
Born in Oaxaca, Mexico, and raised in North Carolina, Fifield-Perez explores issues of migration, labor and political borders through intricate sculptures made from manipulating maps and newspaper cuttings. Fifield-Perez earned a Master of Fine Arts from the University of Iowa. He is a recipient of a National Association Latino Arts and Culture Artist Grant and a Galveston Artist Residency award.
Fifield-Perez was brought into the U.S. undocumented as a young child. He said his status under Deferred Action Childhood Arrival, or DACA, allowed him important opportunities.
"DACA allowed me to get my graduate degree, teach at a museum and to legally travel to exhibitions as the one at the Beach Museum," Fifield-Perez said. "Those have been benefits of DACA; but as a watered-down version of the original Dream Act that undocumented youth fought for, it has also done harm. It arbitrarily divided members of the undocumented community into 'good' and 'bad' immigrants. So DACA's effect has been complex and I hope my work shows that."
Major support for this exhibition and related programs is provided by a grant from the Greater Manhattan Community Foundation's Lincoln & Dorothy I. Deihl Community Grant Program, with additional sponsorship from UFM Community Learning Center at Kansas State University.
The "Fronteras/Frontiers" exhibition offers opportunities to explore rich cultural traditions of Mexico. The following related events will be offered; admission is free unless otherwise noted:
• Graficomovil, a mobile printmaking studio/gallery in a 1948 Chevy delivery truck painted with automotive paint and created by artist Artemio Rodríguez in 2007, will be available from 10 a.m. to 5 p.m. Oct. 3-7 in the Beach Museum of Art parking lot, and 1-4 p.m. Sunday, Oct. 8, and 9 a.m. to 4 p.m. Monday, Oct. 9, at the Manhattan Public Library, 629 Poyntz Ave.
• Art in Motion, a celebration of art, will be from noon-4 p.m. Saturday, Oct. 7, at the Beach Museum of Art, and is concurrent with the Harmony in the 'Hatt music festival in Aggieville's Triangle Park, which is organized by UFM Community Learning Center's Manhattan Nonviolence Initiative. Activities include making a print in Rodríguez's Graficomovil; creating recycled collages; sustainability walk; paint-making and action painting; and a Sunny 102.5 live remote broadcast. Action art activities for all ages will be available, and the celebration is open to the public. Scheduled events: 12:40 p.m., artists talks at Harmony in the 'Hatt; from 1:30-2 p.m., meet artist Sayaka Ganz in the museum's Pelton Gallery; from 2-2:30 p.m., live painting performance by Enrico Isamu Ōyama; and from 3-3:30 p.m., a gallery talk and discussion with Fifield-Perez in the museum's Vanier Gallery.
• The Dia de los Muertos/Day of the Dead altar workshop will be 1-2:30 p.m. Saturday, Oct. 28, at the Beach Museum of Art. Participants can learn more about this seasonal celebration, help create a public altar at the museum for the Oct. 28-Nov. 2 celebration, and make items to take home. Reservations are required by contacting Schlageck at 785-532-7718. The cost is $3 per participant and all ages are welcome.
• The museum's Exploration Station will feature information on Dia de los Muertos and have art supplies available to create items to add to the public Dia de los Muertos altar in the museum's UMB Theater from Oct. 31 to Nov. 2 during museum hours.
• Dia de los Muertos/Day of the Dead celebration will be 5:30-7 p.m. Thursday, Nov. 2, at the Beach Museum of Art. Visitors are welcome to explore the traditions of this Mexican holiday. Light refreshments and art activities will be available.
• The Beach Museum of Art's annual Family Holiday Workshop will be 1:30-3 p.m. Saturday, Dec. 2, at the museum. Participants can create holiday cards and decorations inspired by Mexican traditions. The cost is $5 per child, and children must be accompanied by an adult. No reservations are necessary. Refreshments will be served.
• Peter Bratt, an award-winning filmmaker, will present a Lou Douglas Lecture and screen his new documentary "Dolores" at 7 p.m. Thursday, Feb. 22, 2018, in the Ballroom at the K-State Alumni Center. Bratt will discuss the documentary, which is a portrait of United Farm Workers co-founder Dolores Huerta. Co-sponsors of this event are the Lou Douglas Lecture Series, UFM Community Learning Center, LGBT Resource Center, American ethnic studies department and Hale Library's Dow Center for Multicultural and Community Studies.
• Screening of the film "La Mission," by filmmaker Bratt, will be at 5:30 p.m. Thursday, March 1, 2018, at the Beach Museum of Art. This film provides a glimpse into the culture of a Latino neighborhood and a poignant story of a father-son relationship threatened by homophobia. Bratt has called this film "a coming of age story – of the father, not the son." The film is co-sponsored by the LGBT Resource Center, the American ethnic studies department and the Dow Center for Multicultural and Community Studies.
"Fronteras" school tour: This tour examines the role of artists in communicating contemporary issues such as immigration, borders and boundaries and identity. Rodriguez, the founder of La Mano Press in Mexico, is influenced by the work of Jose Guadalupe Posada, famous for his Day of the Dead Calaveras and the Taller de Gráfica Popular, or TGP/The People's Graphic Workshop. Fifield-Perez's cut paper work references traditional Oaxacan craft techniques. Students will be introduced to the Beach Museum of Art's "Mexican Workers Portfolio" by TGP artists along with other historical Mexican art and create message-based, sculptural artwork.