NSF grant funds university study of professional development tool for physicists
Tuesday, Sept. 5, 2017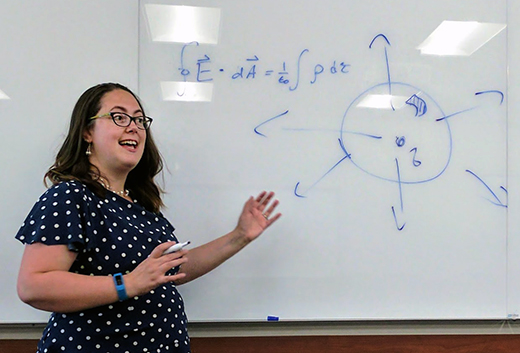 Eleanor Sayre, a Kansas State University physicist, has received a grant from the National Science Foundation to research the effectiveness of PhysPort, an online resource for physics faculty.| Download this photo.


MANHATTAN — Physics students across the world may benefit from physics education research at Kansas State University, thanks to a $1.5 million grant from the National Science Foundation.

The NSF has awarded the grant to Eleanor Sayre, associate professor of physics, for her research project on PhysPort, an online professional development tool used by physics professors internationally.

Sayre's project, in collaboration with the American Association of Physics Teachers, investigates the effect PhysPort has on the practice of teaching physics. Kansas State University and the association jointly designed the tool to support physics faculty in using research-based teaching and assessment methods through expert recommendations, teaching method guides, assessment resources and online workshops.

More than 24,000 unique visitors used PhysPort's resources in 2016, according to a report, "Development, Growth and Use of PhysPort," co-authored by Sayre. About 12 percent of U.S. university physics faculty members are registered users and 47 percent of the sites' unique visitors are from outside the U.S., according to the report.

"This is a broadly used tool with potentially far-reaching benefits for the next generation of physicists," said Brett DePaola, head of the physics department. "Physics education research has helped put K-State's physics department on the map. This grant reaffirms K-State's leadership in this field."

This project is the third NSF-funded grant shared by Kansas State University and the American Association of Physics Teachers to develop and improve the online tool. With this grant, Sayre will study how PhysPort affects teaching practices through web analytics, website feedback, usability testing and interviews with faculty. She also will conduct research with an interdisciplinary international team to increase the tool's effectiveness and advance understanding of how online resources can support teaching practices across disciplines in science, technology, engineering and math.

"PhysPort is already a great resource for physics faculty, and this new grant will enable us to more carefully measure faculty needs around professional development and data analysis for education," Sayre said. "We have a wonderful research team and I am excited to continue our collaboration for another five years."