The Princeton Review ranks Kansas State University, Manhattan relationship No. 1; university named Top 10 in nine categories
Friday, Aug. 4, 2017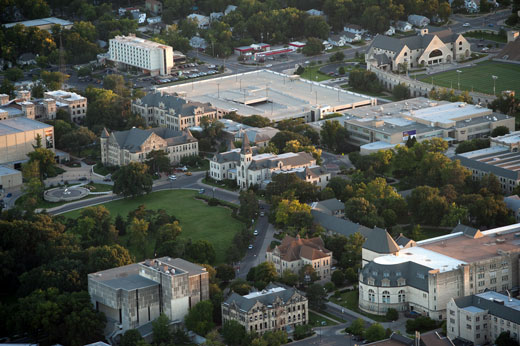 Kansas State University and Manhattan's No. 1 ranking for best town-gown relationship in The Princeton Review's "The Best 382 Colleges" is one of 15 rankings that reinforce the view that the university offers one of the best undergrad experiences. | Download this photo.


MANHATTAN — Kansas State University has again been recognized as one of the nation's top undergraduate college experiences.

The Princeton Review ranked Kansas State University No. 1 for great town-gown relations in the 2018 edition of "The Best 382 Colleges." The university was ranked in 15 categories — nine of which are in Top 10. These rankings and many like them reinforce a view that K-State offers a superior undergraduate experience, according to Pat Bosco, vice president for student life and dean of students.

"K-State students continue to enjoy several Top 10 rankings in value and quality, which is why many believe K-State offers the best undergraduate experience in America today," Bosco said.

In addition to the No. 1 town-gown ranking, the university is No. 2 for best athletic facilities, No. 3 for best quality of life, No. 3 for students pack the stadiums, No. 6 for happiest students, No. 6 for students who love their colleges, No. 6 for best health services, No. 7 for best-run colleges, No. 8 for everyone plays intramural sports, No. 16 for best career services and No. 19 for best college dorms.

"These national rankings reflect decades of quality and value provided by K-State's talented and caring faculty, academic advisers and student life staff," Bosco said. "Supported by a family-like atmosphere, K-State's numerous leadership and volunteer opportunities help students round out their academic career. In addition, the many undergraduate research programs available give students a competitive advantage in the job market, which is one reason we have a 94 percent job placement rate."

In the last 10 years, the university also has had high rankings in many national and regional publications, including most recently Business Insider, Money Magazine, SmartAsset, College Choice, Association of Public and Land-grant Universities' economic prosperity designation, Wall Street Journal and Travel + Leisure, as well as many other discipline-specific rankings.

The Princeton Review, an education services company, surveyed more than 137,000 college students to rank schools in 62 categories. The book identifies the Top 20 schools in each category.