New music education graduate gaining STEAM before tackling her first classroom

Monday, July 3, 2017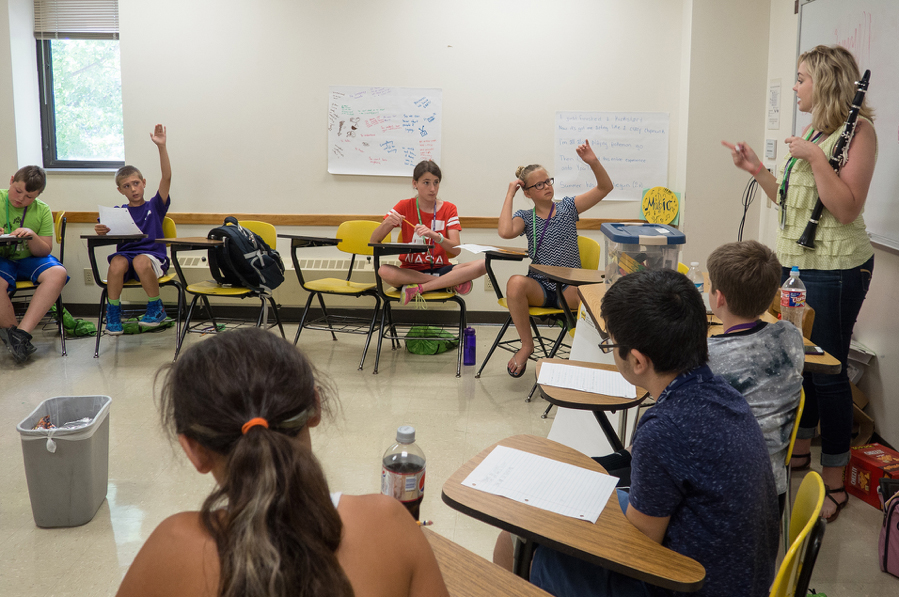 Abby Thompson, Kansas State University music education graduate, works with a group of middle schoolers as part of the Summer STEM Institute at the university's College of Education. (Photo courtesy of Mary Hammel, Kansas State University) | Download this photo.


MANHATTAN — In summer 2014, Abby Thompson was a Kansas State University music education major taking Core Teaching Skills during the summer. She found herself at the Summer STEM Institute at the university's College of Education, assisting a classroom teacher with group of middle schoolers in a course called Monster Storms.
Four years later, Thompson, Cimarron, has returned to the institute. She is now a Kansas State University music education graduate and a licensed teacher who is helping other future students.
The STEM Summer Institute is a collaborative project between USD 383 Manhattan-Ogden and the College of Education. The four-week program provides more than 300 middle schoolers with an opportunity to take STEM — science, technology, engineering and math — classes that involve hands-on learning. The institute also benefits the college's elementary and secondary education students in the Core Teaching Skills class as they work with the students for their summer field experience.
In Thompson's summer Core experience, she taught about weather and barometers — not something she'd ever expected to teach as a music education major. But she remembers it as a valuable and eye-opening experience.
"I vividly remember the very first thing I taught," Thompson said. "The students made barometers to test the weather every day, so I pretty much just walked them through the steps of putting it together. I have helped with others camps for years, but this was one of the first times I was teaching real students real material in a 21st-century classroom — not to mention I was being critiqued. I was honestly terrified."
But it served as a great learning opportunity for her.
This summer, the STEM Institute is evolving into STEAM — adding an "A" to incorporate the arts. This allows music education students and others to lead classes more aligned to their content. Thompson is the first to get to teach a music class specifically for the summer institute.
"I think it's outstanding we are finally incorporating the arts into STEM," she said. "While science, technology, engineering and math skills are all crucial to develop skills needed for the future world, we can't forget about the emotional and affective outlets that the arts give students."
Thompson had the opportunity to design a new class where she could combine her love of music and her desire to be a teacher.
"When I thought about what I wanted this class to look like, I tried to find a happy medium between the technical, scientific side of music and the affective side," she said. "I believe both sides are critically important to a holistic music education."
She is enjoying the experience.
"What I really love about STEAM is that it's exactly what school should be: experimenting, designing, building, creating, analyzing, problem-solving, going on field trips, incorporating technology, collaborating with others and working individually," she said. "And my role becomes more of a facilitator rather than a teacher."
In August, Thompson will begin her teaching career at St. Xavier Catholic School in Junction City, where she will teach K-12 band, choir and elementary music. As a beginning teacher, she said, the experience she's getting teaching an institute class will help her be even more prepared for her own classroom.
"Because I am a young teacher, I jump at every opportunity possible to work with students before I have my own classroom," Thompson said. "Every class of students is unique and comes with its own set of challenges, and this keeps me sharp in my pacing, classroom management, energy, etc. I think the more experiences I have interacting with students, the better teacher I will be."
Thompson even plans to incorporate her STEAM course into her classroom curriculum by teaching a unit on the science of sound.
She also feels more comfortable than ever with her career choice.
"With all the experiences I've had since my time as a student helping with STEM, I always laugh at my first few teaching episodes and how nervous and scared I was," Thompson said. "Teaching feels second nature to me now because I sought out as many extra opportunities to interact with students as possible."