Community celebrates K-State Office Park phase II groundbreaking
Friday, June 9, 2017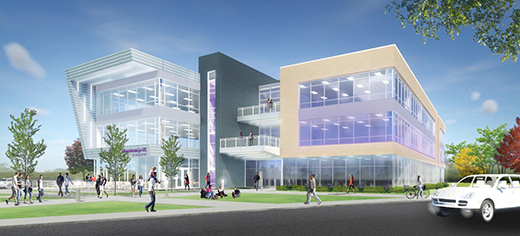 Construction of phase II of the K-State Office Park is set to begin July 5 and be ready for occupancy in August 2018. | Download this photo.


MANHATTAN — To mark the next stage in development of Kansas State University's north campus research and academic corridor, the Kansas State University Foundation broke ground and began excavation for phase II of the K-State Office Park in a June 8 ceremony.

"We are excited to launch construction on phase II of the K-State Office Park and continue to attract corporate partners who desire to locate to our Manhattan campus and maximize their company's access to K-State talent and innovation," said Richard Myers, university president."This groundbreaking reaffirms our promise to the K-State family and partners that we are committed to offering superior student academic experiences and achieving national recognition as a Top 50 public research university by 2025."

Construction of phase II will cost $15.8 million and add 59,000 square feet of on-campus, flexible, move-in ready lease space to accommodate up to 35 tenants, intentional co-working areas and the Bluestem Grill, a locally owned restaurant. Financing of this phase includes a $13.7 million private investment by the Kansas State University Foundation. No donor funds will be used to build phase two. In addition to the KSU Foundation commitment and Federal New Markets Tax Credits, the Manhattan City Commission unanimously approved $800,000 in economic development loans and incentives toward the expansion. The city's investment is projected to deliver $93 million in economic impact over 20 years according to data provided by city staff.

Completion of phase II will add to the combined 56-acre world-class ecosystem of innovative research and academic growth adjacent to Kansas State University in its office and research parks.

"The city of Manhattan and K-State are not only partners, but are family and understand the solid growth of the K-State Office Park benefits our community," said Usha Reddi, mayor of Manhattan. "With the commission's unanimous support, we look forward to growing and strengthening our economic development relationship."

Construction on this phase of the overall $60 million K-State Office Park will begin July 5 and be occupant ready by August 2018. Local general contractor McCownGordon Construction, in partnership with Hoefer Wysocki Architects, will lead the project.
"McCownGordon is proud to partner with K-State and the KSU Foundation in building the next generation of university development," said Ramin Cherafat, chief operations officer for McCownGordon. "Our commitment to the people we serve goes beyond creating an excellent built environment; we endeavor to help move the community forward for the future of K-State and the Manhattan area."

Phase II will expand on dedicated flexible and collaborative professional work space and — with the addition of the Bluestem Grill as a new restaurant partner — community engagement.

"In a world of intense global competition, today's groundbreaking signifies a bold investment on behalf of the KSU Foundation that strategically advances the university," said Greg Lohrentz, KSU Foundation senior vice president of operations and finance. "With our research and academic partnerships solidly in place and a state-of-the-art space to build upon, the K-State Office Park is where cutting-edge innovation develops and diverse industry partners benefit."

Philanthropic contributions to Kansas State University are coordinated by the KSU Foundation. The foundation is leading Innovation and Inspiration: The Campaign for Kansas State University to raise $1.4 billion for student success, faculty development, facility enhancement and programmatic success.