A worthy assessment: Kansas State University a leader in improving critical thinking skills

Thursday, June 15, 2017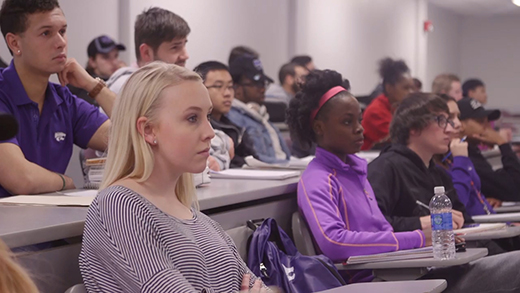 Kansas State University has been recognized as among the best schools in the nation for improving students' critical thinking skills.


MANHATTAN — A recent analysis by the Wall Street Journal shows Kansas State University is one of the best schools in the nation for improving students' critical thinking skills.

According to the newspaper's analysis, Kansas State University is 12th in the nation and first in the Big 12 Conference and in Kansas when it comes to the amount of improvement students make in their ability to think critically, reason, interpret and evaluate between their freshman to senior years.

Strong critical thinking skills are important to employers and highlight the value of a degree from Kansas State University, said Pat Bosco, vice president for student life and dean of students.

"This survey shows how a degree from K-State gives our students an important edge when it comes to landing a job," Bosco said. "Employers seek graduates who have the strong critical thinking skills that make them ready for the job on day one. These are the skills our students are acquiring through the more than 250 programs and options that K-State offers."

As the university's chief academic officer, April Mason, provost and senior vice president, said strengthening students' abilities to think critically is not just a sign of their academic growth, but also shows institutional effectiveness.

"Developing critical thinkers is part of the university's 2025 plan to be a Top 50 public university," Mason said. "Moreover, it is important for determining the effectiveness of student learning and of our teaching. This is an area of great emphasis at K-State and one we will never stop seeking to better."

This emphasis is highlighted by the university's Teaching and Learning Center, which declared 2017 as the "Year of Critical Thinking." The center and university's Office of Assessment have been offerings workshops and other events throughout the year on ways to improve and better assess critical thinking skills.

For the Wall Street Journal's analysis, results from the Collegiate Learning Assessment Plus, known as the CLA+, from 2013-2016 were used. This standardized test, administered annually by the Council for Aid to Education, assesses students' performance in analysis and problem-solving, scientific and quantitative reasoning, critical reading and evaluation, and critiquing an argument, as well as writing mechanics and effectiveness.

Kansas State University no longer administers the CLA+ as it is just one of the many methods available to universities to assess students' critical thinking development, said Brian Niehoff, associate provost of institutional effectiveness.

"The challenge is that the problems requiring critical thinking differ greatly across disciplines, such as architecture, agriculture, business, engineering, science, art or literature," Niehoff said. "The internal assessments administered at K-State allow for and measure specific critical thinking skills within each discipline."
Niehoff said the learning gains as measured by the CLA+ showed an overall correlation with the growth in learning found from the university's other assessment measures.

"We use the compiled data from all assessment methods to assist our continuous cycle of improving teaching and learning for all students," he said.

Assessment methods used at the university have been recognized as a national model. The Excellence in Assessment program named Kansas State University as one of 10 exemplary colleges and universities for its commitment to the comprehensive assessment of student learning outcomes. This is the first national designation of its kind and spotlights institutions successfully integrating assessment practices across campus, providing evidence of student learning outcomes, and using assessment results to guide institutional decision-making and improve student performance.