NSF grant to support engineering professors' development of triboelectric nanogenerators
Friday, June 9, 2017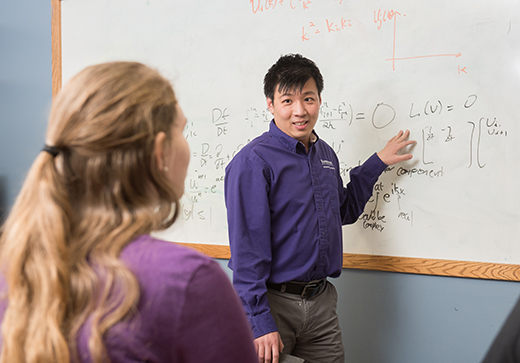 James Chen, Kansas State University assistant professor of mechanical and nuclear engineering. | Download this photo.


MANHATTAN — The triboelectric effect, a phenomenon where a material becomes electrically charged after it contacts a different material through friction, has been understood since ancient times. Today, two Kansas State University engineers are seeking a way to harvest the energy from this effect when produced by mechanical contact between dissimilar surfaces.

With the world's increasing demand for energy, harvesting of this buildup of electrical charge may hold an opportunity for generation of electricity.

Using computational techniques with supercomputers, James Chen, assistant professor of mechanical and nuclear engineering and lead investigator, and Zayd Leseman, associate professor of mechanical and nuclear engineering, will undertake a project to provide a theoretical framework for engineering triboelectric nanogenerators capable of harvesting significant amounts of this power in a controlled way.

The professors have been awarded a three-year, $400,000 National Science Foundation award from the foundation's Mechanics of Materials and Structures Program for their work.

"Harvesting of energy inherent in everyday life is central to this research and very important for the U.S. economy and society," Chen said. "Our work will involve many disciplines, including contact mechanics, solid mechanics, materials science, electrical engineering and manufacturing."

Chen and Leseman will perform simulations in conjunction with carefully designed experiments to derive an atomistic electrodynamic theory and integrate it into the simulations. They will investigate the charging mechanism of contact-mode triboelectrification, relating this with shear strain, surface roughness, friction cycles and harvesting efficiency.

"Outcomes of this project will not only unmask lurking mysteries of the triboelectric phenomenon," Chen said, "but provide a platform for students — middle schoolers to college — to understand energy harvesting."

The project will bolster three centers in the College of Engineering — the SMART Lab, Kansas State Microanalysis Lab and Beocat — while enhancing the research program of the mechanical and nuclear engineering department. It will also directly impact the 2025 initiative and its goal of Kansas State University being recognized as a Top 50 public research university.