Teacher of the Year award another milestone for KC teacher and K-State grad
Friday, May 19, 2017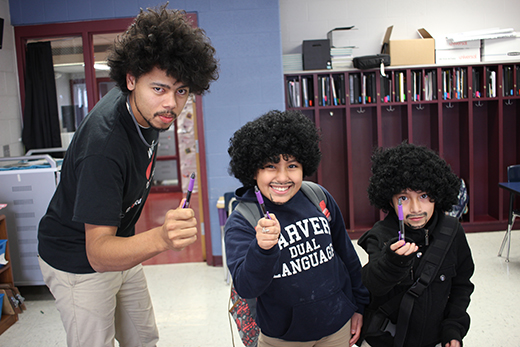 Derrik Wiggins, a 2012 Kansas State University alumnus and Teacher of the Year for the Kansas City, Missouri, Public Schools, is both an educator and role model to his third-grade students. | Download this photo.
OLATHE — Derrik Wiggins, a 2012 Kansas State University alumnus from Olathe, is being named Teacher of the Year for the Kansas City, Missouri, Public Schools. He also is a contender for National Teacher of the Year.

Wiggins is a third-grade English and science teacher at Carver Dual Language School in Kansas City. He has been in the position for four years.

He was recognized for his work in the classroom and out. Culture, empathy and perspective are themes that Wiggins weaves throughout his lessons in the classroom so that his students gain a deeper understanding of a subject and information, and also begin to see how others may identify and react to that same information.

In addition to his work in the classroom, Wiggins has been doing free home tutoring for students in his community on a weekly basis for the past four years; serves on the school's Parent Teacher Association; learned Spanish so that he could better communicate with and understand the culture of many of his students and their families; and volunteered for Big Brothers and Big Sisters. He also lives in the same community his students do so that he can gain perspective about their situations, can be a role model and can help improve and empower his community.

"Service to others has been a priority my whole life, and I saw education as a fantastic service to my community," Wiggins said. "I had music teachers, art teachers, science teachers, reading teachers and more who all opened my mind and my world considerably. I witnessed their additive service to my community and I wanted to be a part of that effort."

Wiggins' four years of classroom service makes him one of the youngest teachers to be named Teacher of the Year. His quick rise and recognition in Kansas City's public schools, however, is no surprise to those at Kansas State University, said Bernard Franklin, assistant vice president for student life.

In 2008, Wiggins, a then Olathe North High School student, was one of five high school students to receive an inaugural Edgerley-Franklin Urban Leadership Scholarship from Kansas State University. Recipients of this highly competitive scholarship are carefully chosen according to their contributions to the urban communities in which they live as well as their potential to create positive change in the future.

Nine years later, Wiggins continues to exemplify that, Franklin said.

"Derrik has taken his Edgerley-Franklin award very seriously and done just what we had hoped the scholarship would do: encourage graduates to give back to the urban community in significant ways," Franklin said. "He is a man who not only teaches in one of the most challenged neighborhoods in Kansas City, Missouri, but he also lives right in the neighborhood he serves. As such, he has come to believe that educators can be liberators of little minds or they can continue the work of the oppressor by expecting little from these minds or not learning to be adaptable, flexible and creative to reach the social and emotional needs of each individual child learner."

Wiggins earned a bachelor's degree in sociology and a minor in leaderships studies and Japanese from Kansas State University in 2012.

"Our communities are a reflection of the values of those who comprise them," Wiggins said. "Any change we wish to see in our community must first happen within ourselves. At K-State my sense of accountability to a larger community grew; no longer did I see community as just my neighborhood, my city or even my country.

"It was really in Dr. Alisa Garni's class at K-State and with the leadership studies program that I was able to truly see myself as belonging to and affecting communities all around the world," he continued. "I saw the intense measures that need to be taken to elevate the needs and voices of those who are and have been disenfranchised."

Following graduation from Kansas State University, Wiggins entered the Teach for America program and began teaching at Carver Dual Language School. In August 2015, he earned a master's degree in elementary education from the University of Missouri-St. Louis.