Emergency tracheal surgery at Kansas State University saves dog after suspected wildlife attack

Thursday, May 4, 2017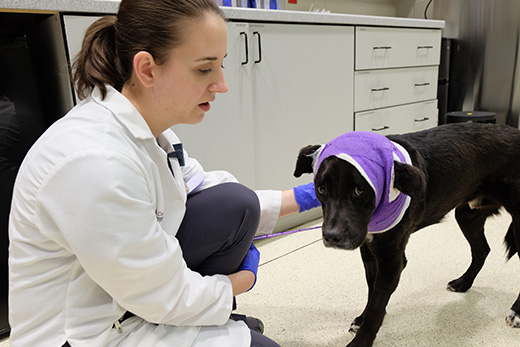 Fourth-year veterinary student Valerie Head sits with Ace in the intensive care unit at Kansas State University's Veterinary Health Center. Ace required multiple surgeries to repair a severe tear in his trachea. | Download this photo.


MANHATTAN — Quick action can be lifesaving when a pet is injured by another animal. Just ask Logan Craghead, Manhattan, whose nearly 6-year-old dog Ace, a black Labrador mix, required emergency surgery at Kansas State University's Veterinary Health Center.

Craghead had recently moved to Manhattan for a new job. Ace was staying at his parents' farm near Alma while Craghead was getting settled into his apartment.

One cold evening, after calling for the family's four dogs, Craghead's mother discovered Ace hobbling and covered in blood. A local veterinarian determined the dog had been attacked by another animal and had a very bad bite wound to his throat. The veterinarian recommended the family take the dog immediately to emergency services at the Veterinary Health Center.

Ace was seen by interns and emergency clinicians who then called in veterinarian Megan Wilson, a small animal surgery resident. Based on his injuries, the veterinarians suspected Ace had a torn trachea.

"We elected to anesthetize him and explore the wounds he had on his neck to see if we could find the tracheal tear," Wilson said.

After suturing the tear and putting drains around his wounds, Ace was kept in the Veterinary Health Center's intensive care unit to recover and receive around-the-clock care. But the bite wound was worse than what veterinarians first thought and another procedure was necessary.

"We actually took out part of his trachea and sutured it back together," Wilson said.

Craghead thought that leaving Ace with his parents on the family farm would be safe, despite knowing coyotes and other wild animals had been seen around the property. But Charlie Lee, wildlife control specialist with K-State Research and Extension, said that coyotes are known for attacking domestic pets, particularly when they are looking for food, when they are protecting their young or when they think the pet is competition.

"When domestic dogs come close to coyote den sites, then they may get chased off, attacked or killed," Lee said. "Coyotes are predators and they are competitors with others for food and space, so they look at a domestic dog as competition."

Lee also said that coyotes are known for attacking animals of different sizes.

"When coyotes attack a larger animal, oftentimes they are going to bite them by the throat," Lee said. "On smaller animals, the coyotes will often bite across the throat or the neck, and sometimes in animals even smaller than that, across the shoulder blades."

Fortunately for Ace, his injuries were treated in time at the Veterinary Health Center. After a long recovery, he has finally been able to move back in with his owner.

"Now he's full of energy and back to his normal self," Craghead said. "He's getting a little ornery, but he's doing well."
Lee has advice for pet owners to help minimize the risks of wildlife attacks on pets.

"Make sure you're not feeding pets outside and that their food is not inadvertently available to predators," Lee said. "Next, make sure we keep wildlife wild. When coyotes have lost their fear of humans, then most likely they're getting fed. We need to keep them wild. You can do that in several ways, such as making noise, running at the coyote or making yourself loud and large. If you have pets and you want to leave them outside and unsupervised, then they probably need to be in an enclosure so coyotes don't have direct access to them."

If you notice predatory wildlife where you live and/or have questions, contact K-State Research and Extension wildlife management at 785-532-5734 or get more information online at wildlife.k-state.edu/.