Kansas State University veterinary students earn national recognitions for excellence

Tuesday, April 4, 2017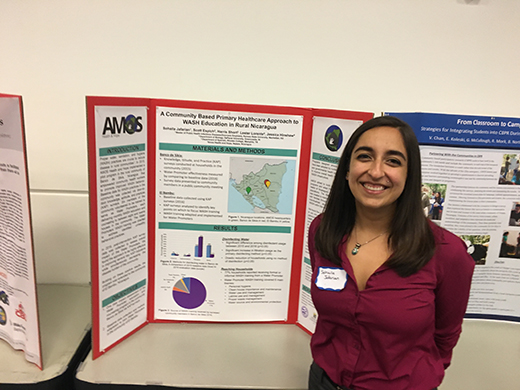 Third-year Kansas State University veterinary student Sohaila Jafarian won a $5,000 Merck Animal Health Veterinary Student Scholarship. She is presenting a poster about her recent trip to Nicaragua to help improve education on rural water supply, sanitation and environmental health. | Download this photo.


MANHATTAN — Two Kansas State university veterinary students recently earned prestigious national veterinary honors.

Sohaila Jafarian, Manhattan, is one of 34 students from around the world who was recently to receive a $5,000 scholarship from Merck Animal Health, in partnership with the American Veterinary Medical Foundation. The Merck Animal Health Veterinary Student Scholarship Program is eligible to second- and third-year students pursuing careers in companion animal or large animal medicine.
Maxwell Beal, a third-year veterinary student, Bakersfield, California, is a recipient of a $1,000 Dr. Jack Walther Leadership Award from the Western Veterinary Conference. Beal was one of 33 students chosen nationwide for the honor based on accomplishments, scholastic excellence and long-term leadership potential. The award also includes complimentary registration, lodging, airfare and a daily stipend to attend the Western Veterinary Conference, which was March 4-8.
Jafarian, originally from Sunnyvale, Texas, earned a bachelor's degree in animal science and industry from Kansas State University. She has been working for the past four years as a research assistant in the Microbiology Pre-Harvest Food Animal Safety Lab. Jafarian is concurrently working on a Master of Public Health while also studying for her Doctor of Veterinary Medicine in the College of Veterinary Medicine. She plans to work nationally and internationally as a public health veterinarian, serving underserved and underdeveloped areas.
Beal, who is a third-year veterinary student, said he was honored to be the Kansas State University recipient of the Jack Walther Leadership Award.

"Going to the Western Veterinary Conference was a blast and I was able to meet a lot of veterinarians from all over the world, Beal said. "This is an amazing opportunity for anyone in veterinary school to experience the largest veterinary conference in the U.S. and make connections all over. Outside of making the connections, the scholarship from this award will help fund my education as I enter my fourth year."