Among the best: National Strategic Selling Institute cited for excellence

Monday, April 24, 2017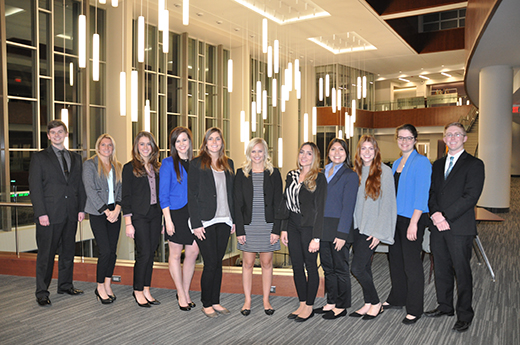 Kansas State University's 2016-2017 National Strategic Selling Institute ambassadors. | Download this photo.


MANHATTAN — For the sixth consecutive year, the National Strategic Selling Institute in Kansas State University's College of Business Administration has been named one of the top sales programs in the country by the Sales Education Foundation.

"We are so excited to be named one of the top universities in sales for the sixth year in a row," said Dawn Deeter, director of the National Strategic Selling Institute. "This achievement is a testament to our innovative sales curriculum and our outstanding K-State students."

The institute features a curriculum focused on the application of selling skills through role-playing and real sales experience. This spring semester, for example, students were able to prospect and make sales calls to sell tickets and find items for the institute's benefit auction, an event to raise money for the NSSI Sales Cup Merit Awards for outstanding students.

The institute sponsors the college's sales team, which takes part in national sales competitions across the country with other top collegiate sales programs. The institute also organizes K-State Sales Week, an annual event featuring workshops, competitions and networking sessions to develop students' sales skills and expose them to careers in sales, as well as other competitions throughout the year.

The program has seen a huge demand for graduates who have earned their certificate in professional strategic selling, with more than 30 companies who actively recruit students at the institute's annual sales career fair. In fact, students who earn their certificate have a 100 percent job placement rate following graduation.

"I receive phone calls weekly from companies searching for great sales talent," Deeter said. "Studies have shown that almost 50 percent of students will be doing some type of sales in their first job out of college, so a student who graduates from our program really has a leg up on the competition."

The certificate program is open to all majors at the university, and allows students to distinguish themselves by demonstrating professionalism and competency in selling skills. For more information about earning a certificate visit cba.k-state.edu/nssi.