Purple reigns in EPA's national Campus RainWorks green infrastructure design competition
Wednesday, April 26, 2017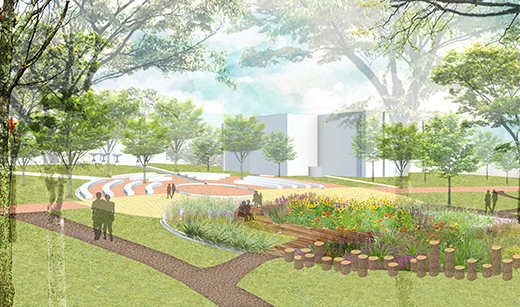 A rendering of the "Stronger Quinlan" project that won the EPA's Campus RainWorks Challenge. | Download this photo.


MANHATTAN — A Kansas State University student team's environmentally friendly proposal to mitigate flash-flooding problems on campus and revitalize a neglected natural area has won a national competition.

Taking first place in the demonstration project category in the fifth annual Campus RainWorks Challenge is Kansas State University's "Stronger Quinlan" project. The challenge is a national college competition sponsored by the Environmental Protection Agency. Student teams are asked to devise innovative green infrastructure solutions that mitigate stormwater runoff and improve water quality on their college campuses.

For the competition, the interdisciplinary team from Kansas State University proposed repairing and improving the Quinlan natural area, a mature riparian woodland adjacent to the Boyd, Van Zile and Putnam residence halls, which are known as the Strong Complex. The project unifies the Strong Complex and the natural area through innovative green infrastructure solutions, including rainwater harvesting, permeable pavement and rain gardens with native vegetation.

"The natural area, which is along the Campus Creek corridor, already offers natural seating areas and native tree species, but it has fallen into disrepair," said Mark Taussig, associate director of campus planning and facilities management with the university's Division of Facilities and a faculty advisor to the team. "Development upstream to the north of the Strong Complex has created a large impermeable watershed that generates large volumes of stormwater runoff during heavy rains, exceeding the capacity of Campus Creek. The result is frequent flash flooding in the natural area as well as to the residential area east of it."

The students estimate their design could reduce stormwater runoff by 46 percent in the vicinity of the Quinlan natural area by capturing approximately 597,000 gallons of water a year for irrigation, according to Trisha Moore, assistant professor of biological and agricultural engineering and a faculty advisor to the team.

The students' design includes three rainwater harvesting cisterns to collect nearly 30,000 gallons of stormwater as it falls from the rooftops of the Strong Complex. The water stored in the cisterns is slowly released over a 48-hour period to a bioretention cell/detention basin system. On its way to this system, the students proposed having the water flow through an eco-friendly plaza bisecting the main pedestrian thoroughfare to engage users in the hydrologic process.

"The design will be a wonderful green infrastructure demonstration site, providing learning and research opportunities," said Jessica Canfield, associate professor of landscape architecture and regional & community planning.
Members of Kansas State University's team include Erica Schmitz, a senior in the concurrent bachelor's in biological systems engineering/master's degree in biological and agricultural engineering program, Hiawatha; Joe Krauska, master's student in entomology, Glencoe, Missouri; Conner Bruns, master's student in landscape architecture, Lee's Summit, Missouri; Joseph Weeks, doctoral student in agronomy, Moravia, New York; Kelsey McDonough, doctoral student in biological and agricultural engineering, Jamestown, Rhode Island; and Tsz Wai Wong, master's student in landscape architecture, Hong Kong.

"The ultimate goal of 'Stronger Quinlan' was to restore the natural hydrologic regime to the Campus Creek and Quinlan natural area through the enhancement of ecosystem services while creating an inviting space for students to engage with nature," McDonough said. "The interdisciplinary nature of our team provided a strong base to develop an innovative design that transcended the capability of our individual disciplines. We are honored to be awarded first place in the 2016 EPA Campus RainWorks Challenge."
McDonough's teammate Bruns said participating in the challenge was an experience to remember.

"Even more of a privilege than winning was getting to work with a talented team of individuals across disciplines who share the belief that green infrastructure has the potential to create landscapes that connect to a site's history, are beautiful amenities and improve upon local ecological conditions," Bruns said.
The team's winning effort was launched in September 2016 as an extracurricular activity, said Lee Skabelund, associate professor of landscape architecture and regional & community planning and a team advisor. Skabelund and Canfield encouraged the two landscape architecture students involved to get together with students from the biological and agricultural engineering department as well as other majors as needed to come up with a project site and theme for the competition.

"The project team did an amazing job of pulling ideas together into a very strong visual and written submission," Skabelund said. "Most of the work on the project was done mid-October to mid-December 2016 on evenings and weekends."

The project has Taussig's support, who says it could fit in well with the university's long-range master plan.
"The proposed system will have long-term benefits of improving stormwater quality and reducing peak flow and volumes — and doing so in a manner that fits with our unique eco-regional context," Taussig said. "The flow of campus stormwater is one way the campus interfaces with the community, so this green project would be viewed favorably by our downstream neighbors."

With the guidance of Canfield and Skabelund, an interdisciplinary team from Kansas State University also won first place in the Campus RainWorks Challenge for its fall 2013 site design efforts.