Equine Performance Testing Center latest addition to Kansas State University's Veterinary Health Center

Thursday, April 6, 2017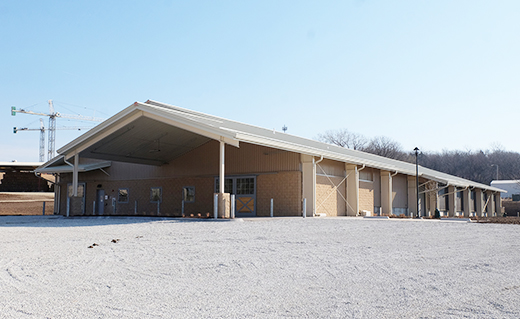 The new $2.8 million Equine Performance Testing Center at Kansas State University's Veterinary Health Center enhances services provided to patients, clients, veterinary students and clinicians. | Download this photo.


MANHATTAN — The newest facility at Kansas State University's Veterinary Health Center offers a full range of services to horse owners and enhances equine education for veterinary students.

A grand opening and ribbon-cutting ceremony for the $2.8 million Equine Performance Testing Center was March 29.

Nearly 50 percent of the roughly 2,500 services provided annually by the Veterinary Health Center equine clinicians involve performance-related disorders. The Equine Performance Testing Center provides safe, year-round access to consistent footing and shelter for patients, clients, students and clinicians.

The advanced facility offers an indoor riding arena with hard and soft footing to optimally evaluate and diagnose lameness or performance limiting issues affecting equine patients. Also included in the facility are an indoor examination area, radiology suite, farrier space and consultation room.

"It is valuable for us to have an indoor facility where we can evaluate horses under-saddle," said Beth Davis, interim head of the clinical sciences department in the university's College of Veterinary Medicine. "We can teach veterinary students regardless of weather conditions. Our ribbon-cutting ceremony was a great example because it was a rainy day. We were easily able to accommodate our guests indoors, all while giving a live demonstration of the type of testing that we can do."

"The center has wonderful footing, and it helps immensely to be covered from the elements and safe from the wind," said Liz Santschi, professor of equine surgery. "It's going to be a great place for people to safely ride their horses, so we can evaluate both their respiratory and, most importantly, their lameness conditions."

Private donations have funded more than $800,000 of the project, but Davis said there are still opportunities to help purchase important equipment and support the equine program. For more information, contact the development office at 785-532-4378.