Kansas Entrepreneurship Challenge awards $75,000 to student entrepreneurs

Wednesday, April 19, 2017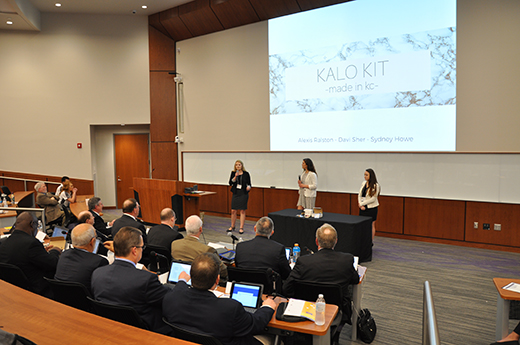 High school division winners in Kansas State University's Kansas Entrepreneurship Challenge, Alexis Ralston, Davi Sher and Sydney Howe, pitch their business Kalo Kit to the judge's panel. | Download this photo.


MANHATTAN — A student entrepreneurship competition featuring high school and collegiate teams from across Kansas has awarded entrepreneurial-minded students with $75,000 in prize money.

The Kansas Entrepreneurship Challenge gave students from around the state experience in the process of making a business proposal. The fourth annual event is organized by the Kansas State University Center for the Advancement of Entrepreneurship and this year was sponsored by the Kansas Masonic Foundation.

"The Kansas Entrepreneurship Challenge allows us to support entrepreneurial innovation in the state of Kansas," said Robert Shively, executive director of the Kansas Masonic Foundation. "The quality of the presentations today has absolutely blown me away. We hope that by providing these students with support, visibility and funding, they can continue to grow their ideas and contribute to their local economy and communities."

In the opening round of the competition, teams delivered a four-minute quick pitch of their business to a panel of judges that consisted of entrepreneurs, bankers and investment experts. From those pitches, the judges selected four high school finalists and four collegiate finalists, who each then had the opportunity to do a more in-depth pitch, followed by a question-and-answer session with the judging panel.

"This event is an opportunity to showcase the tremendous entrepreneurial talent we have in the state of Kansas," said Chad Jackson, director of the Center for the Advancement of Entrepreneurship. "The real-world experience of pitching a business in front of the type of business experts we have on our panel is invaluable to these students, and provides real-world feedback and support to launch companies within our state."

In the collegiate division, Jonathan Griffin from the University of Kansas, Lawrence, was awarded the $25,000 grand prize for his pitch of Exodus Technologies, which is currently developing an early-detection blood test for multiple sclerosis diagnosis.

"This money will allow me to take the next step toward proving the concept and bringing the test to market," Griffin said.

Jared Goering and Spencer Steinert, Wichita State University, were awarded $12,000 for their second-place pitch for Vytal, a next-generation adhesive wearable that uses biometric information to empower athletes.

In third place, Connor England and Mark Feuerborn, Washburn University, Topeka, took home $7,500 for their pitch of AllSpice, a spice storage and digital measuring device.

The fourth-place collegiate finalist was the Kansas State University team of Tyler O'Briant, senior in electrical engineering, Tonganoxie, and Sam Rozell, senior in electrical engineering, Manhattan. The team's pitch for Eyas, a drone system designed for use by law enforcement and emergency management personnel, was awarded $2,500.

In the high school division, the team of Alexis Ralston, Davi Sher and Sydney Howe, Blue Valley CAPS, Overland Park, was awarded the $10,000 grand prize. The team's business, Kalo Kit, is a subscription box service filled with all-natural skin and beauty products sourced from local vendors in Kansas City.

In second place was Sierra Brown, Lansing High School, who took home $5,000 for her pitch of SpecialTees Custom Quilts, which creates keepsake quilts out of T-shirts and other items of significance to the customer.

Jade Artzer, Goodland High School, won $2,500 for her third-place pitch for Made by Jade, which produces high-quality homemade bread mixes.

The fourth-place high school finalist was the team of Coben Hawkins and Robert Deleon, Stafford High School. The team's pitch for Scan from the Past, a QR code system used in cemeteries to find out more about the deceased, was awarded $1,500.

Teams that were not chosen to advance to the finals but still showed potential were entered into the Second Chance round, where judges could award an additional $5,000 in prizes for each division. In the collegiate division, $1,500 went to Cassidy Merriman and Kennedy White, Washburn University, and to the Wichita State University team of Ernesto Cisneros, Jocelyn Galacia and Jose Cisneros. Awards of $1,000 were earned by Breanne Couch, Emporia State University, and the team of Caylin Wiley, Fanny Ochoa, Gisela Guzman and Maria Valbuena, Wichita State University.

High School Second Chance prizes of $1,500 were awarded to Jonathan Hinerman and Nathan Simhiser, Hillsboro High School, and Sailor-Ann Seiler, Hodgeman County High School, Jetmore. Two $1,000 prizes were awarded to Milton Li and Kusalwin Kularatne, Blue Valley CAPS, and Emily Hull, Eudora High School.