Kansas State University seeks innovative startup ideas for Launch a Business program

Tuesday, March 7, 2017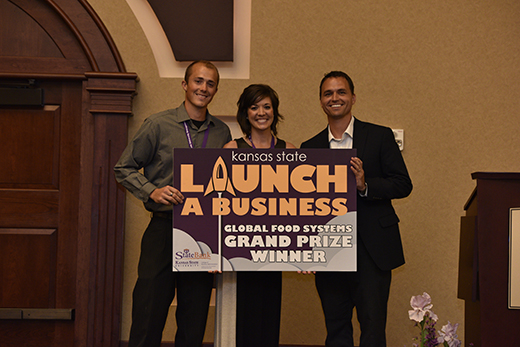 From left, the winners of the 2015 Launch a Business program, David and Danielle Tegtmeier, owners of Liquid Art Winery & Estate, with Chad Jackson, director of the Center for the Advancement of Entrepreneurship. Applications are now being accepted from Kansas-based business startups for the 2017 program. | Download this photo.


MANHATTAN — Kansas State University is seeking applications from Kansas-based startups to participate in its fourth annual K-State Launch a Business program, powered by KS State Bank.

The program, also known as LAB, provides entrepreneurs much-needed resources including faculty-led courses, hands-on student research teams and access to the world-class K-State alumni mentor network. It is specifically intended for early-stage companies and is designed to provide the building blocks for turning a concept into a successful venture.

As many as 25 high-potential startup ventures or concepts will be selected for participation in the Launch a Business program, including up to 10 companies from Global Food Systems industries. Each venture that successfully completes the program will receive $1,500 and is eligible to participate in the culminating Launch Party, where a total of $80,000 in additional prizes will be awarded.

"The Launch a Business program allows us to share our expertise with the community," said Chad Jackson, director of the university's Center for the Advancement of Entrepreneurship. "Our faculty, alumni and students are incredible resources, and we are excited to ask them to volunteer to support the next great startup ventures. We are grateful to KS State Bank for making this possible."

Kansas-based startup founders with scalable, for-profit businesses or ideas are invited to apply until 5 p.m. Friday, April 14. Criteria for selection include identifying a real problem and an innovative solution, demonstrating the drive to succeed and ability to incorporate feedback, and showing commitment to the idea.

The program will take place throughout the month of June, giving the chosen finalists several opportunities to attend workshops and mentoring sessions. Program organizers invite all alumni and supporters of Kansas State University and the regional startup ecosystem to mark their calendars for the closing celebration Launch Party on June 29. The event will feature presentations from all Launch a Business participants.

There is no charge to apply or participate. More details, including the online application form, can be found at k-state.edu/lab.