Kansas State University veterinarians perform cataract surgery on blind baby gibbon

Monday, March 6, 2017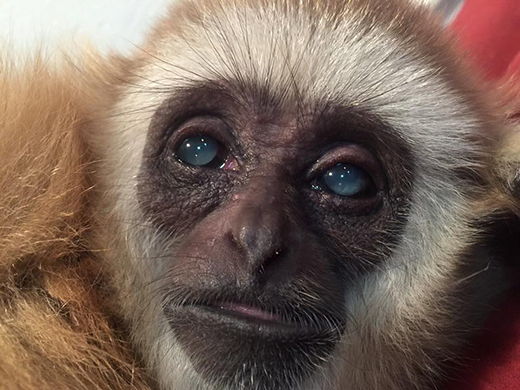 Booger's cataracts make her eyes look cloudy in this Facebook image posted by her owner, Dana Savorelli, prior to cataract surgery in late February at Kansas State University's Veterinary Health Center. | Download this photo.


MANHATTAN — A common procedure in humans is giving a new view to an uncommon animal patient. Veterinary specialists at Kansas State University recently performed what is thought to be the first cataract surgery on a youthful member of the ape family: a 2-year-old gibbon named Booger.

"Booger is unique in that in my research and my understanding she is the youngest gibbon I know about to have cataract surgery," said Jessica Meekins, assistant professor of ophthalmology in the College of Veterinary Medicine. "The only other report I found was a gibbon of about 5 years old, and that was outside the country."

The gibbon's owner, Dana Savorelli, operates Monkey Island Rescue and Sanctuary in Greenwood, Missouri, east of Kansas City, which houses a variety of primates, lemurs and reptiles. Booger was born in the sanctuary, but her vision problems were not immediately obvious.

"You would have to watch her a little bit in her own area to know she was blind because she's got it down so smooth on how everything operates," Savorelli said. "She did a lot more smelling and a lot more touching than what the other ones would do because her eyes weren't giving her what she needs."

Savorelli brought Booger to the Veterinary Health Center at Kansas State University where she was first examined by James Carpenter, professor of wildlife and zoological medicine.

"When Dana contacted us, the first thing we did was discuss the case with the ophthalmologists because they are the specialists," Carpenter said. "And when we presented the case to them, Dr. Meekins was very excited. She informed us of what would be required to do a cataract surgery on a gibbon."

Carpenter said there were numerous people involved in performing the procedure.

"It was a real team effort," Carpenter said. "We had two ophthalmologists, two anesthesiologists, two specialists from our exotics pets/zoological medicine service, and a cast of many, many students, so it was a great teaching opportunity as well."

Meekins said there are several similarities in the eye structures of most animals, including in the development of cataracts.

"We call it comparative ophthalmology because despite a lot of variation in the species we may see, the eyes are remarkably similar," Meekins said. "A lot of the structures are very similar or identical, and so the basic methodology of the surgery was exactly what I would do in one of the animals that I'm more accustomed to doing surgery on, like in a dog."

Precision was an important part of the procedure.

"The incision is actually very tiny — it's only about 3 or 4 millimeters in length — and it's basically just long enough to facilitate the insertion of the instrument that we use to actually break up the cataract," Meekins said. "We were able to remove the lenses completely — the cataracts. Her capsules — the clear tissue that surrounds the lens — were pretty clear, so I am hopeful she's going to have a good vision outcome even though there were some factors that prevented us from putting artificial lenses in her eyes. Still, her vision should be better than it was with the cataracts blocking her sight. She should have basically the equivalent of farsightedness."

The surgery was filmed by an educational and informational television program called "Scaly Adventures" that has already featured Booger on an earlier episode. The show is hosted by Pierce Curren and produced by his mother and father, Tanya and Rick Curren.

"What is our passion at 'Scaly Adventures' is showing people these amazing, beautiful animals and the amazing, beautiful people who take care of them," Rick Curren said. "The surgeons were amazing, and just to get an opportunity to come in and document this amazing procedure and show the doctors' skill and show the team working together was really, really first class."

The cataract procedure is not expected to keep Booger down for very long.

"We would expect the incisions into her lenses to be essentially healed within about two weeks," Meekins said. "Most of the time we like to have the patient be fairly quiet and exercise-restricted for about a month after surgery."

"She is doing great," Savorelli said, after returning home with Booger. "She has the run of the front-room kitchen and dining room and is never caged. It is so cool to see her look and touch things with accuracy. We here at Monkey Island have been blessed to get to work with the professionalism of all who were involved at the Veterinary Health Center."