Cuddly cicada: Stuffed cicada display aims to help people become more comfortable with the insects

Friday, March 31, 2017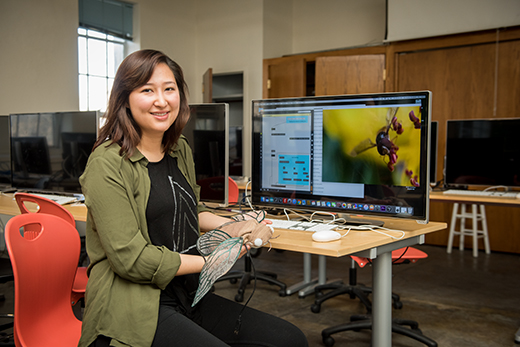 Patricia Melton, senior in digital experimental media, holds the cicada she created that links to the video on her computer screen of actual bugs flying. | Download this photo.


MANHATTAN — If the appearance and buzzing and clicking of cicadas are enough to bug you, a Kansas State University student hopes her interactive display will make the insect seem friendlier.

The display, created by Patricia Melton, senior in digital experimental media, Manhattan, is a plush 7-inch stuffed cicada with giant eyes like a child's stuffed toy but is touch-sensitive and plugs into a computer. The display uses visual and microcontroller coding platforms to play video on a computer monitor or a projector screen.

Melton created her cicada display under the guidance of Carlos Castellanos and Matt Garcia, both assistant professors of art.

To Melton, the cicada is somewhat of a "comfort insect."

"I moved a lot of places growing up, and every summer, everywhere, I would always hear the cicada," Melton said. "The cicada sound was my security blanket — a sense of home wherever I was."

The video footage played in the display alternates between people and bugs, each living their everyday lives. As participants touch the cicada in different spots or with varying levels of intensity, the video and its corresponding audio change. A gentle touch emits real cicadas' soft natural buzzing sound and calm videography, such as a person walking on a trail or ants crawling on bark. A firm push on the stuffed cicada causes the cicada's distress signal sound, and the video changes to imagery of an explosion.

"Those changes represent how people affect insects — it's not always a positive relationship," Melton said. "Some people fear cicadas because when they appear, there are millions everywhere making surprising noises, but they're actually beneficial."

As part of her research for the project, Melton learned that when cicadas come out of their underground hiding places, they aerate and loosen the soil, which allows new plants to grow more easily. Their feeding process trims tree branches and root systems, which prunes trees, Melton said. Cicadas lay eggs inside tree bark, and when the bark falls from the trees, other animals eat the eggs off the ground. Melton represented this cycle in her display by crafting her cicada from recycled materials.

"I think of cicadas as a symbol of regeneration and rebirth, which is inspiring," Melton said.

"My goal is to help people like cicadas a little more and maybe see them in a different way," Melton said. "Hopefully they will learn more about cicadas and be nicer to them. Don't smash them when they get in your house. Take them outside. Make them do work for nature and for us."

Melton was selected to present her cicada display at the Undergraduate Research Day at the Capitol in February. Her work is currently on display from 9 a.m. to 5 p.m. Friday, March 31, at the Chapman Gallery in Willard Hall, with a reception set for 4-6 p.m.

Melton's presentation at the state Capitol was part of the university's Office of Undergraduate Research & Creative Inquiry's work to promote undergraduate research. The office will sponsor the 17th annual Developing Scholars Symposium, featuring the work of around 80 projects by undergraduates from across disciplines, from 1:30-3:30 p.m. Sunday, April 9, in the K-State Student Union Ballroom. The Developing Scholars Program offers high-achieving, serious-minded underrepresented students the opportunity to conduct research projects in their field of study with faculty mentors.