Sunderland Foundation supports academic success at Kansas State University's College of Engineering
Wednesday, Feb. 15, 2017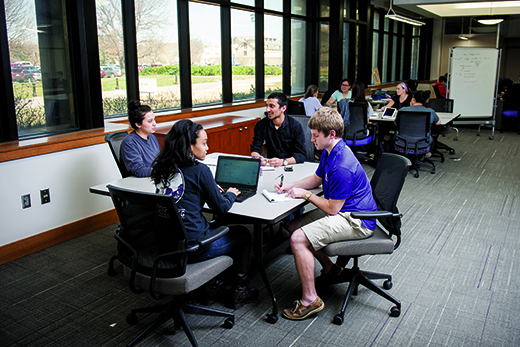 The Academic Success Center at Kansas State University's College of Engineering is benefiting from part of a $200,000 gift to the college from the Sunderland Foundation in Overland Park. | Download this photo.


MANHATTAN — The Sunderland Foundation, Overland Park, has given a gift of $200,000 to the College of Engineering at Kansas State University.

This gift supports the college's Academic Success Center and provides for the Sunderland Foundation Faculty Advisor Office Suite in the newly renovated engineering complex.

"The Sunderland Foundation recognizes the outstanding work being done by Kansas State University in the field of engineering," said Kent Sunderland, president of the Sunderland Foundation. "By supporting the Academic Success Center, we hope to support those students who have chosen engineering as their career and help them reach their goals as students at K-State."

Darren Dawson, dean of the College of Engineering, expressed his thanks for the Sunderland Foundation's continued support. "The Sunderland Foundation has a long history of support for higher education at K-State," he said. "The foundation's most recent gift to the college in support of our Academic Success Center is one more example of its generosity and belief in putting forth the best educational experience possible for our future graduates in engineering and computer and construction sciences."

Philanthropic contributions to the university are coordinated by the Kansas State University Foundation. The foundation is leading Innovation and Inspiration: The Campaign for Kansas State University to raise $1 billion for student success, faculty development, facility enhancement and programmatic success.