Student discovers career path by providing practical contributions to biodiverse meadow
Friday, Feb. 24, 2017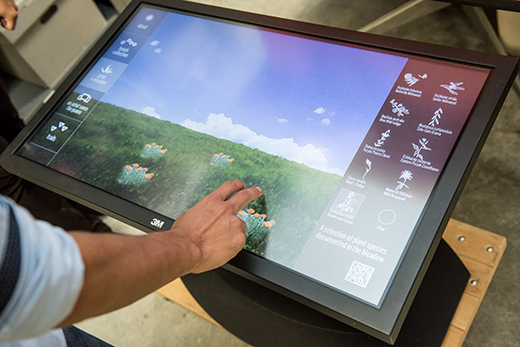 This touch-sensitive screen will allow Beach Museum of Art visitors to virtually plant seeds of native grasses onto a picture of flat land and watch them grow from seedling stage to maturity. Called "Touch the Prairie," the display was developed by a professor at Illinois State University, with input from a team at Kansas State University. | Download this photo.


MANHATTAN — Visitors to Kansas State University's Marianna Kistler Beach Museum of Art will soon be able to learn more about plants in the museum's special natural area with the help of sketches by a K-State student.

Marcos Aleman, sophomore in landscape architecture and regional & community planning, Gardner, completed a series of botanical sketches of the native grasses and wildflowers that grow in The Meadow, a landscape of native grasses and wildflowers located behind the museum. Those sketches contributed to an interactive touchscreen display that will debut at the museum as part of All-University Open House activities on Saturday, April 1.

The display, which could be described as The Meadow and museum collection's virtual world, allows visitors to digitally plant seeds in a computer-generated field. When each simulated seed touches the virtual ground, it grows into a mature plant in less than a minute. This display is part of a larger project, "Touch the Prairie," designed by Rose Marshack, associate professor of music and arts technology at Illinois State University, with input from a team at K-State.

"I think it's interesting to watch the plant mature and be able to capture its progress," Aleman said. "Developing hands-on tools for understanding outdoor spaces is really exciting."

Katie Kingery-Page, who mentors Aleman in K-State's Developing Scholars Program, said his sketches and the resulting touchscreen program, which are both part of the university's Prairie Studies Initiative, will help visitors better understand and interpret The Meadow's biodiversity and ecosystem. The Meadow provides environmental education, aesthetic appeal and ecosystem advantages for local soil and water quality.
A series of signs in The Meadow will present Aleman's drawings with information about species diversity, stormwater management and sustainable maintenance practices. Additionally, Aleman is assisting Kingery-Page, associate professor of landscape architecture and regional & community planning, with comparing maintenance estimates — labor, water and other inputs — used for The Meadow with those used for conventionally manicured areas of campus. Because of the species of plants selected for The Meadow, it does not require watering from the campus's irrigation system.

Aleman said working on The Meadow project helped him determine which sphere of architecture to pursue and has provided him with research, design and networking opportunities.

"The Meadow has given me valuable real-life experience in the field that many architecture students at other schools probably don't get to have," Aleman said. "I now have a passion for landscape architecture."

Aleman said this zeal plays a major role in his ability to accomplish Meadow-related tasks in addition to his extensive studies and studio time as an architecture student.

"This program has opened my perspective on the positive effects landscape architecture can provide to communities through education, infrastructure and preservation," Aleman said. "It is rewarding to create beautiful, functional areas that influence a community and offer enormous benefits for people's well-being."

Kingery-Page said several aspects of work related to The Meadow could not occur without Aleman's applied research and artistic assistance.

"Marcos is a key player in this project," Kingery-Page said. "If he doesn't know how to do something, he'll say, 'I will do it; now, how do I do it?' He doesn't shy away from the task. Also, I have enjoyed watching his creative abilities grow. His drawing skills are becoming fantastic."

Working on The Meadow has helped Aleman envision how he will carry out jobs he is assigned in his future career. The literature review required by the project has taught him the value of background research for developing well-informed, strategic designs.
"I learned useful and important information that helped me understand why certain meadow elements matter — whether they benefit other plant species, attract butterflies or provide restorative benefits for visitors," he said. "Because of this experience, I will be more likely to draw from research-based literature when I work as a professional landscape architect."