A new legend for Zelda: Ferret receives pacemaker from Veterinary Health Center at Kansas State University
Tuesday, Jan. 31, 2017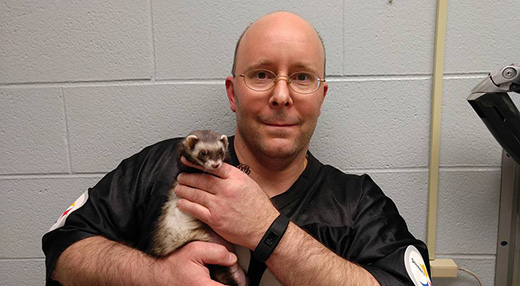 Owner Carl Hobi and his ferret Zelda before her heart pacemaker implant surgery at Kansas State University's Veterinary Health Center. | Download this photo.


MANHATTAN — Kansas State University's Veterinary Health Center has conducted its first-ever surgical implant of a heart pacemaker in a ferret. A team of veterinary specialists at the center recently performed the procedure on Zelda, a ferret from Olathe.

Before Christmas in December 2016, Carl Hobi, who owns three ferrets, noticed Zelda's appetite was off and that she was laying down more than usual. He took her to an area animal hospital, where an EKG showed she had a very low heartbeat. The veterinarian examining Zelda recommended she be seen by a cardiologist at Kansas State University's Veterinary Health Center.

Hobi and his ferrets then headed to Pittsburgh, Pennsylvania, to spend Christmas with family. Zelda still wasn't feeling well, so Hobi took her to an animal health center outside of Pittsburgh. The veterinarian who examined Zelda and ran some tests on her was Christopher Norkus, who just happened to have been a resident in anesthesiology and analgesia at Kansas State University from 2012-2015.

"After other tests, they said she had a third-degree atrioventricular block in her heart, which was responsible for the slow heart rate," Hobi said. "Dr. Norkus told me to take her to K-State for pacemaker implantation."

Once back in Kansas, Zelda was admitted to the Veterinary Health Center, where she was examined by James Carpenter, professor of clinical medicine; David Eshar, assistant professor of clinical medicine; and Louden Wright, an intern, all veterinarians who specialize in wildlife and exotic animals. Zelda also was examined by Justin Thomason, a veterinary cardiologist.

"We performed an echocardiogram, EKG and chest X-rays, which demonstrated Zelda was a good candidate for pacemaker implantation," Thomason said. "As with a human patient, this condition called for the implantation of a pacemaker to help increase Zelda's heartbeat and provide her a good quality of life."

The implantation team included Thomason; Emily Klocke, clinical associate professor of small animal surgery; and David Rankin, clinical professor of anesthesiology.

"This was the first time I had ever performed this particular procedure on a ferret, although I have performed it on dogs before," Klocke said. "I was very concerned about how small our patient was and whether I could successfully suture the pacemaker leads to her beating heart without causing severe bleeding. Our anesthesia service, led by Dr. David Rankin, was very instrumental in the success of this procedure."

The leads are the wires that deliver the energy from the pacemaker to the heart muscle.

"Dr. Klocke's work was truly magical," Eshar said. "There are only a few millimeters of space within the heart's wall for suturing the leads from the pacemaker. The pacemaker is the same as what would be used in a human patient, but we had to order a special set of leads for Zelda, since these would not be inserted through the veins. It's a very delicate procedure to make everything work correctly."

While pacemaker implantation has been performed on other animal species, it is much rarer in ferrets.

"It takes a very special pet owner to be willing to provide this level of care," Thomason said. "Although pacemakers have been implanted in ferrets at other institutions, this is the first time we have placed a pacemaker in a ferret at our hospital."

After the surgery, Zelda was in the ICU for two days before being released to Hobi. Her condition has steadily improved, and Eshar said her behavior and energy levels should get back to normal soon. She'll be coming back to the Veterinary Health Center in early February for a postsurgical examination.

The battery in the pacemaker is good for about 10 years, so Thomason expects Zelda to be able to enjoy a normal ferret lifespan.

"Zelda's case was a great example of a group of us here at the Veterinary Health Center working together to solve a case that none of us could have tackled on our own," Wright said. "We had specialists in veterinary surgery, cardiology, anesthesiology and exotic animals all working to get Zelda the care she needed."

The Veterinary Health Center at Kansas State University provides routine, specialty and emergency care to patients across the Midwest. With more than 50 veterinarians, the center provides access to 14 board-certified specialties in small, exotic and large animal fields.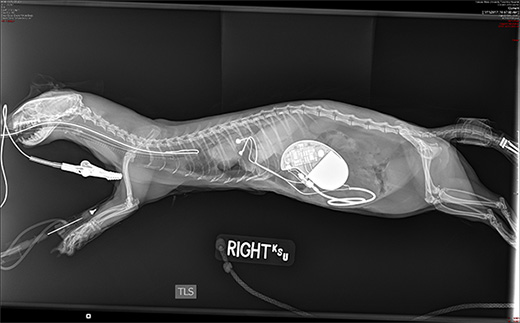 The radiograph reveals the implantation of the pacemaker in the abdomen, where it will help Zelda maintain her heart beat at a normal rhythm for ferrets. | Download this photo.