Highly recognized scientist earning honorary doctorate from Kansas State University
Wednesday, Jan. 18, 2017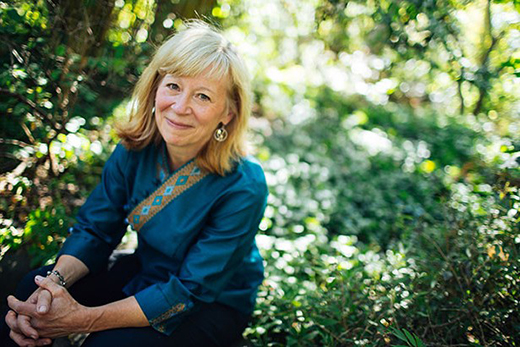 The Kansas Board of Regents has approved Kansas State University's request to award an honorary doctorate to Geraldine "Geri" Richmond, a 1975 K-State alumna in chemistry who was awarded the National Medal of Science in 2016 for outstanding contributions in her field. | Download this photo.


MANHATTAN — A Kansas State University alumna and 2016 recipient of one of the nation's highest honors, the National Medal of Science, will receive an honorary doctorate from the university.

Geraldine "Geri" Richmond earned a bachelor's degree in chemistry from Kansas State University in 1975. She went on to earn a doctorate in physical chemistry from the University of California, Berkeley, and now serves as presidential chair in science and professor of chemistry at the University of Oregon, where she has been a faculty member since 1985.

The awarding of the honorary doctorate follows approval by the Kansas Board of Regents. It is one of the highest honors the university can give. Richmond will be recognized with a medal and will serve as commencement speaker for Kansas State University's Graduate School at 1 p.m. Friday, May 12.

"Dr. Richmond has distinguished herself in every aspect of her career and is most deserving of this high honor from Kansas State University," said April Mason, the university's provost and senior vice president. "A Kansas native, she has had a remarkable career that has earned her top scientific honors and recognitions for her research and for her service to the advancement of science, including the advancement of women in the STEM fields."

Richmond received the National Medal of Science from President Obama in 2016. Established by Congress in 1959, it is presented to individuals deserving of special recognition for their outstanding contributions to knowledge in the physical, biological, mathematical or engineering sciences.

Her work, which uses laser spectroscopy and computational methods, helps to better understand the chemistry that occurs at a complex surface like liquid water. The research has relevance to environmental remediation, biomolecular assembly, atmospheric chemistry and alternative energy sources.

Richmond has been recognized for her research with membership and leadership roles in several of the nation's most prestigious scientific organizations, including the National Academy of Sciences and the American Academy of Arts and Sciences. She is a fellow of the American Chemical Society, the American Physical Society, the Association for Women in Science and the Association for the Advancement of Science, the world's largest general scientific organization, where she just finished a term as president and now serves as chair of the association's board.

Among Richmond's current leadership roles include serving on the National Science Board, to which she was appointed by President Obama; and her appointment by Secretary of State John Kerry as U.S. science envoy to Vietnam, Laos, Cambodia, Burma and Thailand. Richmond also is the founding and current director of the grass-roots organization COACh, which was formed in 1998 to assist with the career advancement of thousands of scientists and engineers in the U.S., Asia, Africa and Latin America.

Along with the National Medal of Science, Richmond has been recognized with the Olin-Garvan Medal, Joel H. Hildebrand Award, Charles L. Parsons Award and Award for Encouraging Women in the Chemical Sciences, all from the American Chemical Society. She also received the Davisson-Germer Prize from the American Physical Society and the Presidential Award for Excellence in Science, Mathematics and Engineering Mentoring, which is administered by the National Science Foundation on behalf of the White House Office of Science and Technology Policy.