Beach Museum's 'John Steuart Curry: Mapping the Early Career' provides rare look at artist's early works
Tuesday, Jan. 10, 2017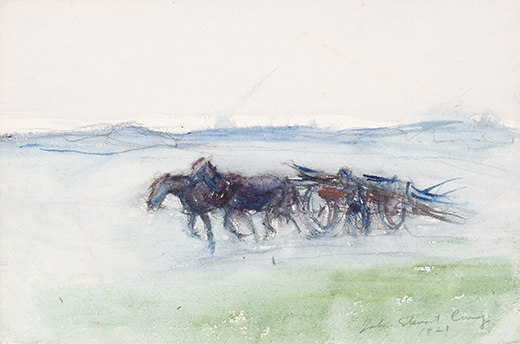 John Steuart Curry's "Horses and Wagon" is a 1921 watercolor over graphite from the Curry collection at Kansas State University's Marianna Kistler Beach Museum of Art. The work was a bequest to the museum from the estate of the artist's wife, Kathleen G. Curry. | Download this photo.


MANHATTAN — A new exhibition at Kansas State University's Marianna Kistler Beach Museum of Art explores the little-known early life of famed artist John Steuart Curry and presents some never-before-viewed objects from the museum's more than 900-piece Curry collection.

"John Steuart Curry: Mapping the Early Career" will run Jan. 17-May 13 in the Beach Museum of Art's Donna Lindsay Vanier Gallery.

During the late 1920s, Curry gained national attention for his portrayals of Kansas. At the height of his career, during the 1930s, he would become associated with prominent Regionalists Thomas Hart Benton of Missouri and Grant Wood of Iowa.

But much less is known about Curry's early years as an artist, according to Elizabeth Seaton, Beach Museum of Art curator.

"This exhibition explores Curry as a student and early professional through more than 30 drawings, paintings and magazine illustrations," said Seaton, who organized the exhibition with members of a spring 2016 seminar comprised of students from Kansas State University and the University of Missouri, Kansas City.

"A look at Curry's career beginnings provides insight into his success. What becomes clear is the importance of his upbringing on a farm in Kansas and his strong need to visualize this," Seaton said.

The centerpiece of the exhibition is the major Curry mural "Wall Map of Europe," on loan from the Burr Living Trust of Lewisberry, Pennsylvania. Also showcased will be Curry works never exhibited publicly before from the Beach Museum's large collection of works by the artist.
As part of the exhibition, Seaton will provide the talk "Sea Adventures, Western Dramas, and Dog Tales: John Steuart Curry as Illustrator" at 5:30 p.m. Thursday, Feb. 2, at the museum. The event is free and the public is welcome.

Major support for "John Steuart Curry: Mapping the Early Career" is provided by Joann Goldstein in memory of Jack Goldstein. Additional support comes from the R.M. Seaton Endowment for Exhibitions and The Ross and Marianna Kistler Beach Endowment for the Marianna Kistler Beach Museum of Art.

The Beach Museum of Art, on the southeast corner of campus at 14th Street and Anderson Avenue, is open 10 a.m. to 5 p.m. Tuesday, Wednesday and Friday; 10 a.m. to 8 p.m. Thursday; and 11 a.m. to 4 p.m. Saturday. Admission and parking are free. The museum is closed Sunday and Monday. Please consult the museum's website, beach.k-state.edu/, or call 785-532-7718 for more information.