Fitzwater exhibit at Hale Library gives inside view of White House life
Tuesday, Jan. 17, 2017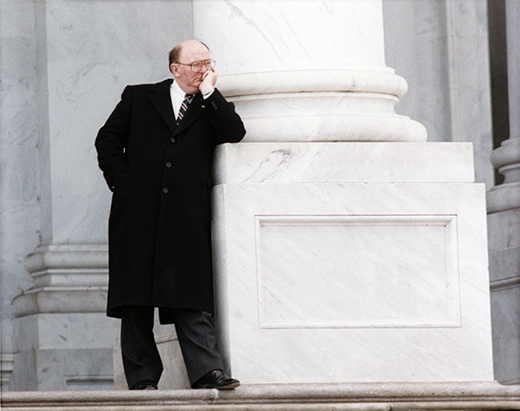 A somber Marlin Fitzwater stands alone during President Clinton's inauguration on Jan. 20, 1993. He remembers the moment: "I walked over to the bottom of the Capitol steps … and simply sat down to wait for the new president's inaugural speech to end. It was an empty feeling." | Download this photo.


MANHATTAN — As the U.S. president-elect prepares to take the oath of office, an exhibit at Kansas State University is honoring an alumnus and White House legend who served multiple administrations.

Marlin Fitzwater was born in Salina, grew up in Abilene, and graduated from Kansas State University in 1965. In the following decades, he rose through the ranks of civil service in Washington, D.C. In 1983, Fitzwater joined the White House staff, where he remained for 10 years, including six years as press secretary. In fact, Fitzwater was the only press secretary appointed by two presidents, Ronald Reagan and George H.W. Bush.

In 2015, Fitzwater donated his personal papers, including correspondence, photos, memorabilia and official government documents, to the Richard L.D. & Marjorie J. Morse Department of Special Collections at K-State Libraries. The exhibit displaying many of those items, "Marlin Fitzwater: From Wheat Fields to White House," is open to the public 8 a.m. to 5 p.m. Monday-Friday on the fifth floor of Hale Library on the Manhattan campus.

"Fitzwater experienced the turbulence of the White House for more than a decade," said Lori Goetsch, dean of K-State Libraries. "He was there when Ronald Reagan left the Oval Office for the last time and asked Colin Powell what he was supposed to do with the nuclear code numbers. He was on Air Force One with George H.W. Bush the day Bush left office and flew back to Houston. The exhibit gives us a glimpse of what it was like to be there during those historic transitions."

Fitzwater's White House career highlights the fact that every presidency has its own ways of working with the press and communicating with the public. Ultimately, he gave more than 850 press briefings and developed communication strategies for two presidents with vastly different styles. President Reagan, ever the actor, liked to work from a script. When he left office and Bush took the reins, Fitzwater had to adapt.

"President Bush was a little more surprising," Fitzwater said. "Every once in a while, he would want to talk to the press himself. He would just say, 'Let's go down to the briefing room; I have some things I need to get off my chest.'"

The Fitzwater collection and the exhibit are replete with many more inside perspectives and humorous anecdotes. Thanks to his donation, they will be available to future generations of researchers.

For more information, contact Keli Rylance, head of archives and special collections, at 785-532-7456 or kerylan@k-state.edu.