Success by degree: Commencement ceremonies Dec. 9-10 at Kansas State University
Thursday, Dec. 1, 2016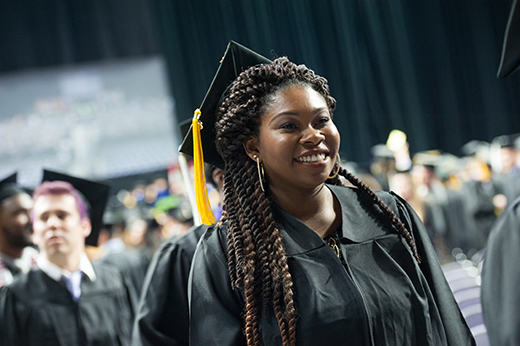 It's graduation time Dec. 9-10 at Kansas State University as more than 1,600 students are candidates for degrees.| Download this photo.


MANHATTAN — More than 1,600 students are candidates for degrees from Kansas State University this fall, with commencement ceremonies set for Friday, Dec. 9, and Saturday, Dec. 10.
The university will award more than 1,250 bachelor's degrees, 300 master's degrees, 80 doctorates and five associate degrees. Earning their degree through K-State Global Campus will be more than 160 students.

Commencement ceremonies will kick off Dec. 9 with the Graduate School at 1 p.m. in Bramlage Coliseum on the Manhattan campus. Speaker will be Richard Myers, the new president of Kansas State University. Representing the Kansas Board of Regents at the ceremony will be Dennis Mullins, regent from Manhattan. Kansas State Polytechnic Campus in Salina will hold its ceremony at 7 p.m. Dec. 9 in the campus's Student Life Center. Myers will serve as the commencement speaker.
Commencement ceremonies Dec. 10 will all take place on the Manhattan campus in Bramlage Coliseum. The following is a schedule ceremonies and speakers:
• College of Arts & Sciences, 8:30 a.m., with Susan Brown, university distinguished professor of biology, as speaker.

• College of Education, 10 a.m., with Jonathan Ferrell, a 2017 Kansas Teacher of the Year team member and a sixth-grade teacher at Briarwood Elementary School in the Shawnee Mission School District. Ferrell also is a Kansas State University alumnus.
• College of Business Administration, 11:30 a.m., with Kent Glasscock, president of the Kansas State University Institute for Commercialization, as speaker.
• College of Agriculture, 1 p.m., with John Carlin, visiting professor and executive-in-residence at the university's Staley School of Leadership Studies, serving as speaker.
• College of Human Ecology, 2:30 p.m., with Pat Keating, president and CEO of Keating and Associates, as speaker.

• College of Engineering, 4 p.m., with speaker Ray C. Dempsey Jr., vice president and head of external affairs, BP America, as speaker.
A webcast of the commencement ceremonies will be streamed live at k-state.edu/graduation/.

A virtual commencement ceremony is available at global.k-state.edu/commencement for distance education students unable to attend their commencement ceremony in person. The website includes a listing of students earning degrees through distance education, a place for family and friends to post congratulatory messages and other commencement-related offerings.

DVDs of the ceremony may be ordered through the K-State Campus Store in the K-State Student Union at 785-532-6583. The DVDs are $14.95 and delivery normally takes four to six weeks.

Related to commencement will be commissioning ceremonies for Kansas State University's Army and Air Force ROTC units. Both ceremonies will be Dec. 9, with commissioning of Air Force ROTC cadets to be at 9:30 a.m. in the Conference Center at Kansas State Polytechnic, while Army ROTC cadets will be commissioned at 10 a.m. in Forum Hall at the K-State Student Union.