College of Veterinary Medicine selects new scholars for veterinary training program serving rural Kansas
Wednesday, Nov. 2, 2016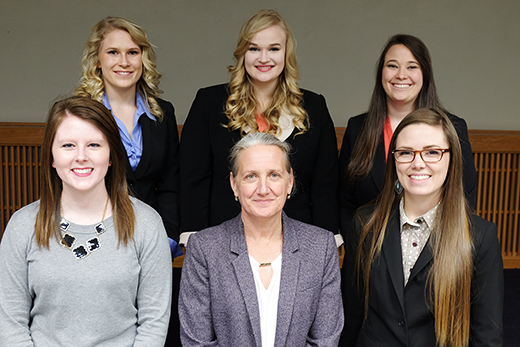 The new class of Veterinary Training Program for Rural Kansas scholars with Tammy Beckham, dean of the College of Veterinary Medicine, front row from left: Meredith Schmidt, Beckham and Elizabeth Farney; and back row, from left: Shanlyn Hefley, Anna Hickert and Ashley Zelenka. | Download this photo.


MANHATTAN — Five new students in the College of Veterinary Medicine at Kansas State University have been chosen for the largest veterinary educational program offered by the state of Kansas: the Veterinary Training Program for Rural Kansas.

This year's recipients, all first-year veterinary medicine students, are Anna Hickert, Hays; Elizabeth Farney, McPherson; Meredith Schmidt, Overland Park; Shanlyn Hefley, Wellington; and Ashley Zelenka, Wilson.

"We are very pleased the state of Kansas continues to support this program," said Tammy Beckham, dean of the College of Veterinary Medicine. "We had a very talented pool of applicants, and the students who were chosen are very deserving of this award. These students are from Kansas and already appreciate how this program will help them to serve in a rural area where veterinarians are needed."

The Veterinary Training Program for Rural Kansas, passed by the Kansas Legislature in 2006, provides a financial incentive for veterinary students to practice in rural areas of the state upon their graduation. Program participants are eligible for up to $20,000 in loans per year to pay for college expenses and advanced training. Once they complete their Doctor of Veterinary Medicine, participants are required to work at a full-time veterinary practice in one of the 91 Kansas counties with fewer than 35,000 residents. For each year the student works in rural Kansas, $20,000 worth of loans will be forgiven by the state. Students can work a maximum of four years through program, receiving up to $80,000 in loan waivers.
Each student in the Veterinary Training Program for Rural Kansas is required to participate in additional activities beyond what is required for their veterinary degrees. The scholars spend their summer breaks learning about foreign animal disease preparedness, natural disaster preparedness, rural sociology and public health.

To date, 50 students — 26 males and 24 females — have received Veterinary Training Program for Rural Kansas debt forgiveness loans. Thirty-five of these students have graduated and all have, with the exception of two, fulfilled or are fulfilling their four-year obligations to practice in a rural community in Kansas. One participant practiced for a year in Pennsylvania and then moved back to Kansas to a rural community. This graduate paid the college $20,000 plus interest for that year. One graduate is currently completing a food animal internship at Kansas State University before going into a rural practice in Kansas.