College of Veterinary Medicine students make top 15 cut in national swine-research poster competition
Thursday, Nov. 10, 2016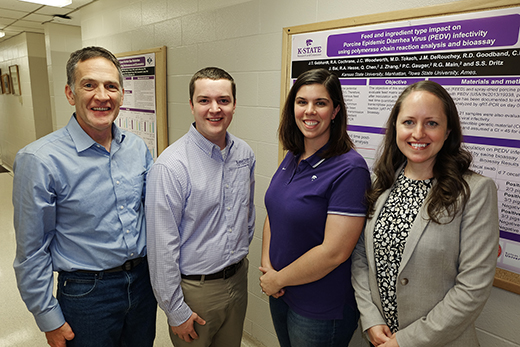 Second-year Kansas State University veterinary medicine students Jordan Gebhardt, center left, and Laura Constance, center right, with their faculty mentors Steve Dritz, left, professor of diagnostic medicine and pathobiology, and Megan Niederwerder, right, clinical assistant professor at the Kansas State Veterinary Diagnostic Lab. | Download this photo.


MANHATTAN — A pair of second-year Kansas State University veterinary students has been selected to participate in the American Association of Swine Veterinarians' seventh annual Veterinary Student Poster Competition, sponsored by Newport Laboratories.
Jordan Gebhardt, Cedar Springs, Michigan, and Laura Constance, Clyde, North Carolina, will take part in the competition Feb. 26, 2017, at the association's annual meeting in Denver.

Based upon scores awarded in the judging of abstracts submitted for the association's student seminar, the top 15 poster abstracts were chosen for judging, out of the 33 that were selected for poster presentation at the meeting. Gebhardt and Constance are both concurrent Doctor of Veterinary Medicine and doctoral program students in Kansas State University's College of Veterinary Medicine. Their primary mentors are Steve Dritz and Megan Niederwerder, respectively, both swine researchers in the diagnostic medicine and pathobiology department in the veterinary college.

"My project builds upon research conducted by K-State focused on a very relevant issue swine producers are facing — how to effectively and efficiently mitigate the risk of porcine epidemic diarrhea virus contamination within feed manufacturing facilities and prevent subsequent infection of animal herds," Gebhardt said. "It is a collaborative project involving our college along with colleagues in the grain science and industry and animal sciences and industry departments at Kansas State University and colleagues at Iowa State University's College of Veterinary Medicine. It is very practical research with the goal of establishing readily implementable protocols to reduce disease transmission within feed manufacturing facilities."

Gebhardt said that his research opportunities build directly upon what is learned in the classroom, and greatly enhance the educational experience and preparation for real-world problem solving. The title of his poster project is "Evaluation of the effects of flushing feed manufacturing equipment with chemically treated rice hulls on porcine epidemic diarrhea virus (PEDV) cross contamination during feed manufacturing."

Constance's project involves porcine reproductive and respiratory syndrome, or PRSS, which is an economically devastating swine disease endemic to many U.S. farms, costing producers around $665 million annually. The title of her poster is "Comparison of morbidity and mortality after challenge with two North American PRRS virus isolates shows marked variation in time course and prevalence of clinical disease between isolates."

"The objective of our study was to compare clinical disease between two types of PRRS virus in nursery piglets," Constance said. "By characterizing disease caused by different PRRS viruses, we increase our knowledge of the potential impacts on swine production as well as increase our capacity for early recognition of virus introduction on the farm."

A panel of three judges will conduct a brief interview with each of the 15 students selected to participate to determine poster winners. Newport Laboratories is sponsoring the scholarship awards, which include $500 for first place, $400 for second and third places; $300 for fourth through sixth places; and $200 for seventh through 15th places.

"I am very excited by the prospect of presenting my data to a broader audience to further the characterization of the disease," Constance said. "This disease occurs in many farms in Kansas; therefore it is relevant to not only on a global or national basis, but also to the state in which I am currently living. By better understanding this disease, I can hopefully make an impact on local producers in detecting the virus and understanding how the disease is manifested in the piglets."