Kansas State University leaders congratulate Coach Bill Snyder on 200th win, university involvement
Saturday, Nov. 26, 2016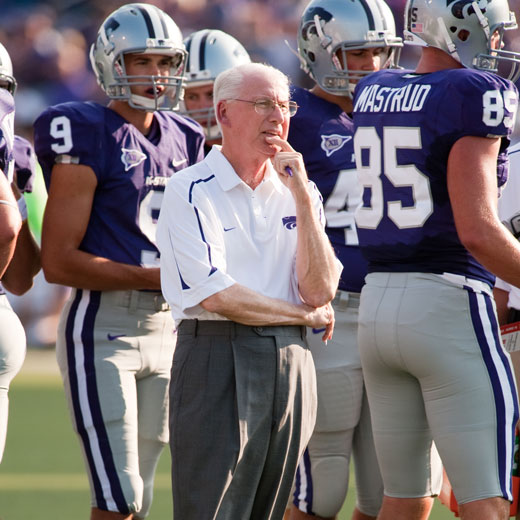 As one of the most recognized leaders at Kansas State University, Football Coach Bill Snyder has influenced many young people throughout his career at K-State. | Download this photo.


MANHATTAN — As a man of few words, Kansas State University Head Football Coach Bill Snyder's 200th career win coupled with his success off the field prove that actions speak louder.
"I have a great deal of respect for Coach Snyder and his tremendous capability to inspire and guide young folks in all walks of life not just on the football field," said President Richard Myers. "His 200th career win is a testament to his positive influence in so many people's lives."

While celebrating the beloved coach's career milestone, many Kansas State University leaders also are celebrating the man whose inspiring attitude and dedication gives many young adults — not just student-athletes — the foundations to become successful in all aspects of their lives.

"I remember what it was like when Coach Snyder first came to K-State," said Pat Bosco, vice president for student life and dean of students. "I was there for his first win and now his 200th — both were epic and well deserved. No one person has positively influenced our school more than Coach Snyder in every aspect of our university. Over the past 25 years, Coach often has quietly and without any fanfare, made himself available to support many K-Staters with encouragement, and has supported many community and university causes. Congrats to Coach, his staff, his family and his players."

Coach Snyder has been called one of the most well-known college football coaches in history and is often credited for turning around the Kansas State University football program, not once but twice.

"As we talk this holiday season about things that we are thankful for, it would be an understatement to mention Coach Snyder's impact on K-State, Manhattan, the state of Kansas and the entire college football world," said John Currie, K-State Athletics director. "He has positively impacted the lives of so many student-athletes, coaches, staff and fans, and we are so fortunate to have him as the leader of our football program."

To inspire success in his players and all young adults, Snyder has long touted that there are 16 goals to success: commitment, unselfishness, unity, improve, be tough, self-discipline, great effort, enthusiasm, eliminate mistakes, never give up, don't accept losing, no self-limitations, expect to win, consistency, leadership and responsibility. Through a partnership with K-State Athletics, these goals have been incorporated into a fellowship program in the university's Staley School of Leadership Studies.

"While 200 wins is a tremendous achievement and deserves congratulations, Coach Snyder's impact on our university and community goes far beyond the game of football," said Mary Tolar, director of the Staley School of Leadership Studies. "Throughout his Hall of Fame career, Coach Snyder has been working to develop leaders on and off the field. Just as many of Coach Snyder's players go on to future success in football and life, the Snyder Leadership Legacy Fellows Program seeks to honor his legacy by helping prepare students to successfully transition from college to career and serve as high impact leaders on campus, in their communities and beyond."

Effective leadership, a team spirit and never giving up are key characteristics of Kansas State University's football program. Snyder has led by example by frequently giving credit to the university's faculty and staff — who he calls family — for making the university great. Snyder said in a September letter to faculty and staff, "As I have stated so many times publicly and in my own thoughts, we — my family and I — came to Kansas State because of the people, and returned to Kansas State because of the people. You (faculty and staff) have been the foundation of the development of our football program and our university."

Snyder's humbleness and team spirit doesn't stop at giving credit to others. He sets an example of what it means to be a K-Stater.

"What Coach Snyder has been able to accomplish during his 25 years at K-State is incredible," said Amy Button Renz, president and CEO of the K-State Alumni Association. "We congratulate Coach Snyder on his 200th victory. His dedication and loyalty to the university reaches far beyond football. The time he devotes to fans, the letters he writes and the example he sets are all greatly appreciated by the Wildcat Community. Thank you, Coach, for all that you have done and continue to do for K-State on and off the field."

The Snyder family has invested in the future of many programs that are valuable to a universal education such as the Marianna Kistler Beach Museum of Art, Kansas State University Gardens, McCain Auditorium, K-State Libraries and the university's Johnson Cancer Research Center.

"I'm very happy for Coach and his team in securing his 200th career win," said Greg Willems, president and CEO of the Kansas State University Foundation. "In collegiate athletics, many would consider 200 wins to be a crowning achievement. However, Hall of Fame Coach Bill Snyder's legacy extends well beyond the football field. His demonstrated commitment to helping people, imparting life values and unwavering integrity has inspired the K-State family for decades and will continue to do so well into the future."

University leaders agree that his passion for the game of football is evident but his belief that the university is and should be about educating young men and women and providing them with a foundation for becoming successful in all facets of their lives, proves the family's first goal is education.

"Bill and Sharon Snyder's longtime support of the Beach Museum of Art is a perfect example of the value they place on having the arts be a part of every K-State student's education," said Linda Duke, director of the Marianna Kistler Beach Museum of Art. "They lead by example, and that is so important."

"Coach and Sharon are longtime supporters of the Friends of the K-State Libraries," said Lori Goetsch, dean of K-State Libraries. "We value their commitment to the Libraries as essential to student learning and success. Congratulations, Coach!"