National Institute of Food and Agriculture grant provides training, networking opportunities for rural veterinarians in Kansas, region

Tuesday, Nov. 15, 2016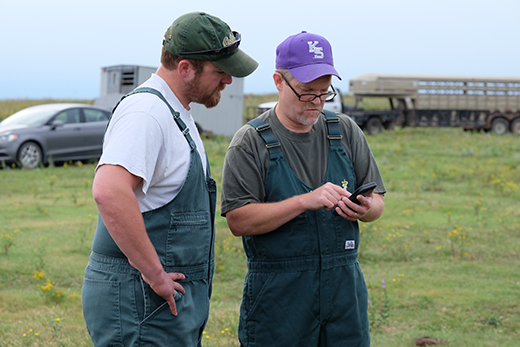 Kansas State University veterinarians A.J. Tarpoff, left, and Robert Larson test new mobile technology while working with cattle in the field. Photo courtesy of Audrey Hambright, Beef Cattle Institute. | Download this photo.


MANHATTAN — Researchers from the Kansas State University College of Veterinary Medicine have received a nearly quarter-million dollar federal grant to improve rural veterinarians' awareness of endemic, transboundary, and emerging diseases of production animals.

The $239,656 grant from the National Institute of Food and Agriculture is going to a Kansas State University-based team headed by Brad White, professor of production medicine and interim director of the Beef Cattle Institute. Co-project directors are Juergen Richt, regents distinguished professor and director of the Center of Excellence for Emerging and Zoonotic Animal Diseases, and Derek Mosier, professor of veterinary pathology.

The team will use the grant to conduct organized workshops and create online modules that enhance education and career development for rural veterinarians who work with production animals — livestock raised for food. Another goal of the grant is to enhance career opportunities for rural production animal veterinarians.

According to the research team, production animal medicine plays a crucial role in rural communities, yet many areas may be underserved because they lack access to local veterinary services. Rural veterinarians can be the first line of defense against high-consequence emerging, zoonotic and transboundary animal diseases — such as foot-and-mouth disease, classical swine fever, African swine fever and avian flu — that could cripple the production animal economy.

The workshops will be in Manhattan and the online modules will be accessible to rural production animal veterinarians and to anyone who has an interest in the topics. By providing resources and information to rural production animal veterinarians, the Kansas State University team also hopes to draw attention to the vital role production animal veterinarians play in the assurance of food safety and food security, the protection of animal and environmental resources, and the economic viability of production animal agriculture.

"The collaborative grant will allow us to work closely with veterinarians to utilize decision tools and new information to decrease the potential impacts of cattle diseases," White said.

"This program will enable researchers to fill a gap in the ability of rural veterinarians to recognize and respond to emerging zoonotic and transboundary animal diseases, which are a constant threat to U.S. agricultural systems," Richt said.

The economic consequences of an outbreak of a high-impact disease would be devastating, according to the researchers. Various models have been created to estimate the impact of an outbreak of foot-and-mouth disease in the U.S. Estimates for economic loss vary from $2.7 billion to $4 billion per year depending on intensity, severity and duration of the outbreak, with lesser estimates for regional outbreaks. A recent example is the 2015 outbreak of avian flu in in the Midwestern states. The control and eradication of the highly virulent avian influenza virus — HTN2 and HTN8 — for domestic poultry and turkey populations was estimated to have cost $4 billion.

The Kansas State University project will integrate training opportunities for production animal veterinarians, teaching them how to efficiently provide additional services to food animal clients and to expand their role as first responders while receiving financial compensation for the time involved. The workshops and training modules also teach management of low-incidence, but high-consequence diseases of production animals, and also high-incidence but low-consequence diseases. Both high- and low-incidence diseases are of critical importance for the long-term success of rural veterinary practices, according to the researchers.