Promising business ideas earn student entrepreneurs $20,000 from K-State Launch

Tuesday, Nov. 22, 2016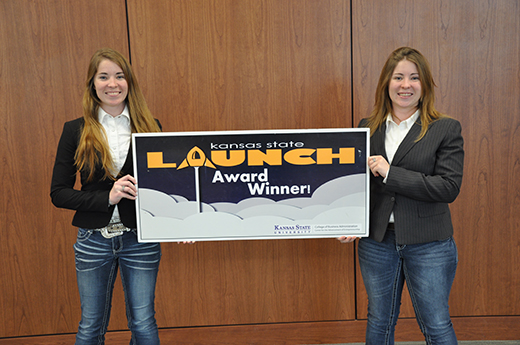 The CowTrax team of Caitlyn Maloney and Alicia Maloney are awarded a $3,000 prize and a place in the 2017 Kansas Entrepreneurship Challenge in the spring. | Download this photo.


MANHATTAN — A Kansas State University competition has awarded 16 students and 10 different business ideas with $20,000 in prize money.

The K-State Launch competition gives students experience in the process of making a business proposal. The competition is organized by the Center for the Advancement of Entrepreneurship in the College of Business Administration and is open to all students and majors in the university. In total, 212 student teams representing every college at Kansas State University entered the competition this year by submitting a feasible written plan, which was used to narrow the field to the 10 best startup ideas.

The 10 finalist teams first presented their ideas to the Manhattan business community at the recent Manhattan Area Chamber of Commerce After Hours event at the college, with all attendees voting for their favorite idea. Each vote was worth a portion of a $2,000 prize pool that was distributed to all of the companies by percentage of votes received.

The finalists then each had the opportunity to deliver a business pitch to a panel of judges — consisting of local entrepreneurs, bankers and investment experts — that had $18,000 in prize money to distribute to the companies showing the most promise.

"K-State Launch is an opportunity to showcase the tremendous entrepreneurial talent at K-State," said Chad Jackson, director of the Center for the Advancement of Entrepreneurship. "The real-world experience of pitching a business in front of the type of business experts we have on our panel is invaluable to these students, and provides real-world feedback and support to launch companies within our state."

In the end, five businesses were awarded cash prizes by the judges' panel, with three being chosen to represent Kansas State University at the Kansas Entrepreneurship Challenge in spring 2017.

Tyler O'Briant, Tonganoxie, and Sam Rozell, Manhattan — both seniors in electrical engineering — were awarded $7,500 and a spot in the Kansas Entrepreneurship Challenge for their pitch for Eyas, the first truly advanced police support quadcopter drone on the market. The Eyas will provide dual functionality both as a reconnaissance and a documentation tool, enhancing police officers' ability to more fully understand the myriad of dangerous situations they face on a daily basis as well as provide more appropriate, over-the-shoulder documentation once these situations commence.

The next award was a $5,000 prize to Rebecca Keating, master's student in interior architecture & product design, Adrian, Missouri, for her business, Rekreative Design. The business provides quick and accurate body geometry scans of individual motorcyclists, which are then used to design custom body armor solutions unique to both the rider and the rider's position on his or her current motorcycle. Keating will be studying abroad in spring 2017 and elected not to participate in the Kansas Entrepreneurship Challenge.

A spot in the Kansas Entrepreneurship Challenge and a $3,000 prize went to the CowTrax team, a collaboration of Caitlyn Maloney, junior in agribusiness, and her sister, Alicia Maloney, junior in animal sciences and industry, both from Mountain Grove, Missouri. Their company uses microchips that allow farmers and ranchers the ability to obtain live GPS locations on each head of livestock. It also provides temperature readings, heart-rate sensors and barrier warnings. CowTrax also will allow ranchers to locate lost or stolen cattle because of the barrier warnings embedded in the mobile app or online program.

Austin Pfannenstiel, doctoral candidate in electrical engineering, Manhattan, took home $1,250 and the final spot in the Kansas Entrepreneurship Challenge for his business, MHK Solar. This business will provide a complete solar system design, financial analysis and installation solution for residential and commercial customers in Manhattan and surrounding areas.

Rounding out the prizewinners was Blake Benton, senior in marketing, Wichita, who won $1,250 for his pitch of The Bridge, which connects patients who can benefit from adult stem cell treatment to the therapy. It provides patients and their families educational and procedural information surrounding the adult stem cell therapy.