Animal behaviorist, autism expert Temple Grandin to present 175th Landon Lecture at Kansas State University on Nov. 29
Monday, Nov. 14, 2016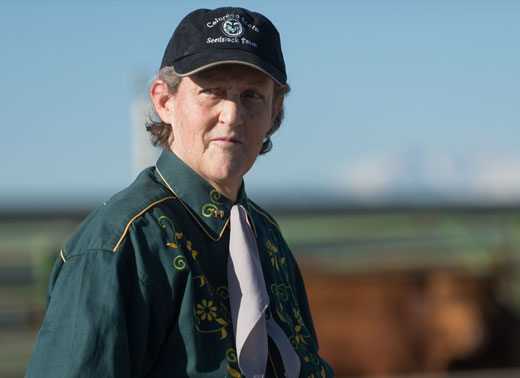 Temple Grandin, world-renowned autism spokesperson, livestock industry expert on animal behavior, author and professor at Colorado State University, will present Kansas State University's 175th Landon Lecture on Tuesday, Nov. 29. Photo courtesy of Colorado State University. | Download this photo.


MANHATTAN — Kansas State University will host Temple Grandin, world-renowned autism spokesperson and livestock industry expert on animal behavior, for a Landon Lecture milestone at 10:30 a.m. Tuesday, Nov. 29, in McCain Auditorium.

"As one of the nation's most prestigious and well-known lecture series, the 175th Landon Lecture on Public Issues with Dr. Temple Grandin should not be missed," said Jackie Hartman, the university's chief of staff and director of community relations. "The lecture is free and open to the public."

Grandin, a professor of animal science at Colorado State University, will present "Successful Education of Students with Different Kinds of Minds," which will touch on multiple areas of her expertise, including teaching.

"Dr. Grandin's phenomenal mind has helped shape United States' animal welfare practices and how we think about people on the autism spectrum," Hartman said. "She truly is a global leader in multiple fields, and it is a privilege to host her for this milestone in the Landon Lecture series."

Grandin showed signs of autism at an early age and self-describes her unique thought process as thinking in pictures. In addition to a successful teaching career, she is an accomplished livestock equipment designer and an effective animal welfare advocate. In 2010, Grandin was among Time magazine's "100 Most Influential People" in the hero category. She is one of the authors of "Emergence: Labeled Autistic" and the author "Thinking in Pictures: My Life with Autism," both which inspired the 2010 HBO film "Temple Grandin" starring Claire Danes.

She is the author of several books — including the New York Times best-seller "Animals in Translation" — and gives many talks about animal welfare and the autistic brain, such as her TED talk "The world needs all kinds of minds." She received her Bachelor of Arts in psychology from Franklin Pierce College, a Master of Science in animal science from Arizona State University in 1975 and a doctorate in animal science from the University of Illinois in 1989.

Since 1966, the Landon Lecture Series, named in honor of former Kansas governor and political leader Alfred M. Landon, has invited global leaders to share thoughts about national and global issues. The lecture series has hosted U.S. presidents, Supreme Court justices, national and global political leaders, and many other prominent figures.