Best of the best: Kansas State University College of Veterinary Medicine selects Early Admission Scholars
Wednesday, Nov. 9, 2016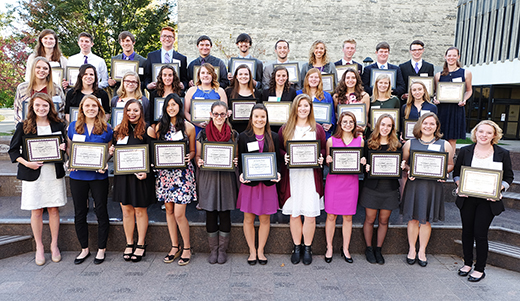 Kansas State University College of Early Admission Scholars, from left, front row: Taylor Duff, Monica Anderson, Rachael Weinstein, Nina Marchell, Amanda Hoffman, Michaella Wahl, Katherine Clarkson, Lana Herman, Valerie Mombello, Jessie Johannes and Kendra Christman. Middle row: Kyndall Norris, Gerae Haverkamp, Madeline Riede, Katie Condon, Savannah Parkey, Abigail Larson, Amy Collins, Emily Carroll, Cecelia Biggs, Morgan Strader and Julia Smith. Back row: Grace Luebcke, Jackson McCoole, Jayden McCall, Zachary Fawver, Isaac Brunkow, Zackery Bieberly, Spencer Boaz, Cassidy Schlessiger, Zachary St. Clair, Adam Houghton, Ashton Harlan and Alyssa McCormick. | Download this photo.


MANHATTAN — Thirty-four Kansas State University undergraduate students now have a special opportunity to fulfill their passions for animal health. The university's College of Veterinary Medicine accepted these students into its Early Admission Program at an afternoon ceremony Nov. 4 in Frick Auditorium in Mosier Hall.

Since being established in 1999, the Early Admission Scholars program has recruited the best and brightest undergraduate students who want to study veterinary medicine. After acceptance into the program, satisfactory completion of the 64 hours of preprofessional requirements, and at least three years of undergraduate work at Kansas State University, the scholars are guaranteed admission into the College of Veterinary Medicine.

"Qualifying for this program is very special," said Ronnie Elmore, associate dean for admissions and diversity programs. "These students represent the top 5 percent of Kansas State University students according to their college acceptance test scores. Being selected into the Early Admission Programs gives them the advantage of bypassing the regular applications process, which is very competitive. For only 112 positions in each incoming veterinary class, we usually receive more than 1,000 applications."

Successful candidates in the Early Admission Scholars program must maintain a 3.4 grade point average during completion of the preprofessional requirements. At the beginning of the third year of their undergraduate studies, these scholars may petition for enrollment in the first year of the Doctor of Veterinary Medicine degree program.

The College of Veterinary Medicine assigns a veterinary student mentor to each Early Admit Scholar to stimulate career and academic development and to provide orientation and access to college activities. The pre-veterinary students attend regular meetings during the academic year to develop a sense of community and share their progress.

The following Kansas State University students are members of the 2016 class of Early Admission Scholars:

Zachary Fawver, Andover; Jackson McCoole, Atchison; Amy Collins, Burlington; Cassidy Schlessiger, Ellinwood; Ashton Harlan, Fort Leavenworth; Jessie Johannes, Garden City.

From Greater Kansas City: Taylor Duff, Lenexa; Lana Herman and Morgan Strader, both from Olathe; Kendra Christman, Valerie Mombello and Madeline Riede, all three from Overland Park; and Adam Houghton and Zachary St. Clair, both from Stilwell.
Grace Luebcke, Marysville; Savannah Parkey, Nortonville; Cecelia Biggs and Amanda Hoffman, both from Pittsburg; Kyndall Norris and Michaella Wahl, both from Riley; Zackery Bieberly, Salina; Spencer Boaz, Shawnee; Jayden McCall, Valley Center; Alyssa McCormick, Wakarusa; Isaac Brunkow, Westmoreland; and Gerae Haverkamp, Wetmore.

From out of state:

Rachael Weinstein, Oro Valley, Arizona; Emily Carroll, Bentonville, Arkansas; Monica Anderson, Newbury Park, California; Nina Marchell, West Palm Beach, Florida; Katie Condon, Lake Forest, Illinois; Abigail Larson, St. Joseph, Missouri; Julia Smith, Omaha, Nebraska; and Katherine Clarkson, Southlake, Texas.