Baby bison book: Kansas State University's environmental educator writes, gives away 'The Autumn Calf' children's book
Monday, Nov. 7, 2016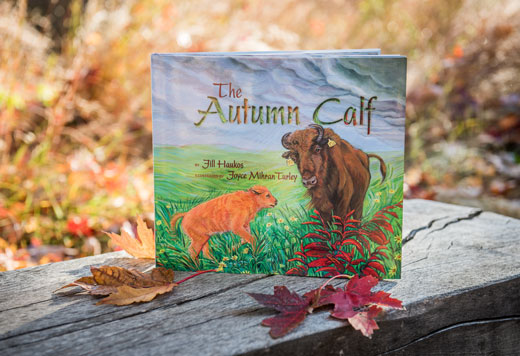 "The Autumn Calf," written by Jill Haukos with illustrations by Joyce Mihran Turley, combines the heartwarming tale of a newborn bison on the verge of a harsh winter with the environmental science of the tallgrass prairie and operations of Konza Prairie Biological Station at Kansas State University. | Download this photo.


MANHATTAN — Kansas State University's environmental educator is giving schools, teachers and librarians copies of "The Autumn Calf," an educational children's book about a tiny bison calf and the tallgrass prairie ecosystem.

"The Autumn Calf" is a true story about a newborn bison calf that we saw on Konza Prairie Biological Station in fall 2012 — dangerously close to the harsh winter of the Kansas Flint Hills," said Jill Haukos, the book's author and director of education for the Konza Environmental Education Program.

The book contains discussion material for grade-school life science standards in Kansas and is part of the Schoolyard Series by the National Science Foundation's Long-Term Ecological Research, or LTER, program.

"Targeted toward fourth- and fifth-grade students, the book discusses adaptations bison have for survival, like their thick brown coat," Haukos said. "The book also mentions grassland birds and how they employ migration and camouflage to aid in their survival. In addition, we talk about the relationships among grasses, the producers; bison, the herbivores; and coyotes, the predators, on Konza Prairie."

One of the nation's first LTER sites, Konza Prairie is an 8,600-acre native tallgrass prairie research station, jointly owned by Kansas State University and The Nature Conservancy and managed by the university's Division of Biology in the College of Arts & Sciences. The research station keeps a herd of approximately 300 wild bison as part of Konza Prairie's native grazing and tallgrass prairie research.

"We questioned if the calf was going to live through winter because of its small size," Haukos said. "The herd manager said she needed to weigh at least 200 pounds if she was going to have a chance to survive. At round-up in October, she weighed 197 and she had a wise old cow as her mother."

Bison calves are usually born in mid-spring and depend on their mothers for protection and nourishment through the winter, Haukos said. The book combines the tale with the environmental science of the tallgrass prairie, operations of Konza Prairie and illustrations by Joyce Mihran Turley.

"I think the book provides an amazing representation of the tallgrass prairie and encapsulates how special this ecosystem is," Haukos said.

Teachers, librarians and schools interested in a free copy of the book should contact Haukos at 785-587-0381. The book also is available at the LTER website, Claflin Books in Manhattan, and on Amazon.