Postdoctoral fellow joins staff at Kansas State University Bulk Solids Innovation Center
Wednesday, Nov. 23, 2016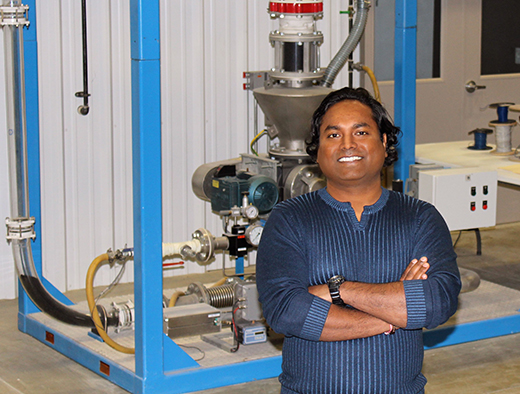 Postdoctoral fellow Amit Gautam, who previously worked in the sugar technology and water purification industries, is now a researcher for the Kanas State University Bulk Solids Innovation Center in Salina. | Download this photo.


SALINA — The Kansas State University Bulk Solids Innovation Center is growing its staff with the addition of a postdoctoral fellow. Amit Gautam, who has previously worked in the sugar technology and water purification industries, has joined the center as a researcher in the areas of bulk solids storage and handling.

Gautam most recently was a chemical engineer with Aqua ReUse, a manufacturer of industrial wastewater purification equipment and filtration media in Mission, Texas. He was responsible for the design, development, trouble-shooting and debottlenecking of converting a batch system to a continuous system, as well as creating separation and purification strategies that decreased total suspended solids and removed heavy metals from wastewater.

Gautam also was employed by the Audubon Sugar Institute, a part of Louisiana State University in St. Gabriel, Louisiana, as a postdoctoral researcher. His duties included testing the process of milling sugar cane and extracting sugar juice from the cane to find appropriate ways of reducing cost and waste. He also explored using fibrous residue from sugar to create cellulosic ethanol and butanol.

"We are excited to add Dr. Gautam to the K-State bulk solids team," said Kurt Barnhart, associate dean of research and engagement on Kansas State University's Polytechnic Campus. "He brings years of experience conducting research in this area and has already presented new ideas and opportunities to consider as we move the center forward and make it a recognized leader in bulk solids technology."

At the center, Gautam is testing bulk solids — loose, dry commodities like minerals, chemicals, sugars, plastic resin, fillers, pellets or recycled plastics — to help clients understand the best way to store and handle their materials. He examines the physical characteristics of the bulk solids and how they behave under various conditions, such as humidity and hot and cold temperatures. He also puts them through both dense phase and dilute phase pneumatic conveying to determine which process works best as the bulk solids move through hoppers and storage equipment.

An expert in discrete element method, or DEM, Gautam additionally will create modeling of simulations. He plans to study the possible positive utilizations of dust explosions, teach short courses at the center and continue developing collaborations with other bulk solids institutes.

"Often times companies do no realize they are working with bulk solids, but these materials actually make up more than 80 percent of items transported around the world," Gautam said. "I am proud to continue my research at the Kansas State University Bulk Solids Innovation Center because any advancements we discover will have an impact on a multitude of industries."

A native of Mumbai, India, Gautam received a bachelor's degree in chemical engineering from the University of Mumbai. His master's degree is focused in bioprocess technology from the Institute of Chemical Technology, also in Mumbai, and he has a doctorate in chemical and biological engineering from the South Dakota School of Mines and Technology in Rapid City. Gautam's ultimate goal is to become a professor.

The Kansas State University Bulk Solids Innovation Center, in Salina, is a research, testing and educational facility dedicated to the science and understanding of bulk solids materials handling. The center is the only one of its kind in North America, housing six laboratories for university and industry-sponsored research; training, conference and lecture rooms; a material properties test lab; and a full-scale bulk solids test bay. The key tenant of the center is the university, while two local companies, Coperion K-Tron Salina and Vortex Valves, supplement the facility by serving as anchor occupants.

For more information on the facility's research capabilities, contact John Lawrence, research director, at jlawren@k-state.edu, or Barnhart at 785-826-2972 or kurtb@k-state.edu.