Zika virus infection may prevent reinfection, collaborative Biosecurity Research Institute study finds
Thursday, Oct. 13, 2016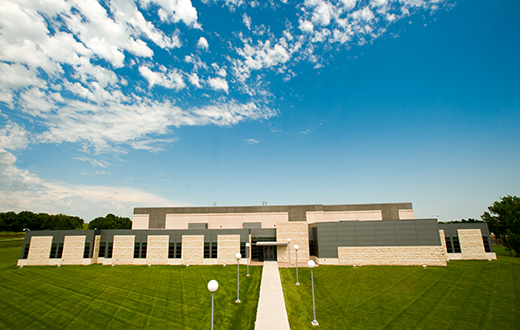 Researchers with Kansas State University's Biosecurity Research Institute collaboratively have published several Zika virus-related findings in a recent Nature Medicine article. | Download this photo.


MANHATTAN — People infected with Zika virus may not be susceptible to Zika virus again, according to the latest research involving Kansas State University's Biosecurity Research Institute.

"The research shows that infection provides excellent protection against reinfection," said Stephen Higgs, director of the Biosecurity Research Institute. "This means people infected during this current epidemic will likely not be susceptible again. When a large proportion of the population is protected — known as herd immunity — the risk of future epidemics may be low."

The protection against reinfection was one of several findings published in a recent Nature Medicine article. Other findings show that Zika virus is present in the blood very early during infection and remains in some tissues for a long time but is only briefly present in other tissues.

The research involved Kansas State University College of Veterinary Medicine researchers Dana Vanlandingham, assistant professor of virology, and Yan-Jang Huang, postdoctoral fellow in diagnostic medicine and pathobiology. They produced Zika virus at the Biosecurity Research Institute and provided it to collaborators to support studies performed at several other laboratories.

Collaborators included scientists at the National Institute of Allergy and Infectious Diseases, including the National Institutes of Health's Viral Pathogenesis Section, Vaccine Research Center, Biostatistics Research Branch, Division of Clinical Research and the Structural Informatics Unit in the Laboratory of Infectious Diseases; the Federal University of Rio de Janeiro, COPPE, Chemical Engineering Program; the Center for Virology and Vaccine Research at Beth Israel Deaconess Medical Center at Harvard Medical School; the Electron Microscopy Laboratory in the Cancer Research Technology Program at Leidos Biomedical Research Inc.'s Frederick National Laboratory for Cancer Research; and the Translational Medicine Branch and Viral Diseases Branch with the Walter Reed Army Institute of Research.

Kansas State University has a long-standing research partnership with Bioqual, Higgs said. The latest collaboration helps to better understand the dynamics of Zika viral infection, replication and shedding.

Other important findings in the Nature Medicine article include:

• Zika RNA was detected in blood plasma as early as one day after Zika virus infection. It also was detected in saliva, urine, cerebrospinal fluid and semen, and was briefly detected in vaginal secretions.
• Zika RNA cleared from blood plasma and urine within 10 days, but viral RNA was detectable in saliva and seminal fluids until at least three weeks after Zika virus was no longer present in the blood.

• During early and late states of infection, Zika RNA was detected in tissues, including the brain and male and female reproductive tissues.

The researchers also discovered better models for improving Zika virus research and more quickly testing vaccines.

Higgs noted that further research is needed to understand how Zika virus invades the nervous system and to determine how long and how extensively Zika virus remains in saliva and semen.
Other research related to Zika virus:
Kansas State University contributes to potential Zika virus vaccine development
Culex mosquitoes do not transmit Zika virus, Kansas State University study finds
Zika virus research at Biosecurity Research Institute aims to control, fight mosquitoes