Kansas State University program wins national economic development award
Wednesday, Oct. 26, 2016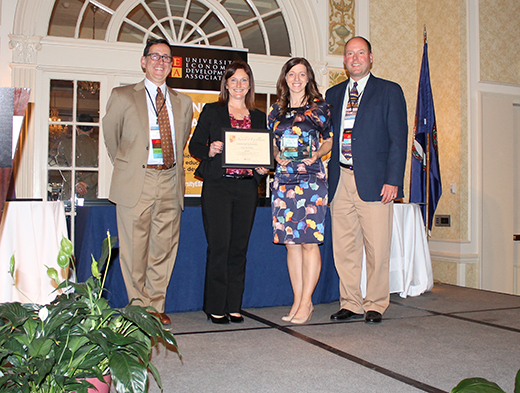 Rebecca Robinson, center right, director of economic development at the Kansas State University Institute for Commercialization, accepts an Award of Excellence for Innovation from University Economic Development Association board members for her work on an event series to develop faculty teams to pursue large grants and industry partnerships. | Download this photo.


MANHATTAN — A Kansas State University program has been named winner of a national contest that recognizes success in stimulating economic development in Kansas and the surrounding region.

Members of the University Economic Development Association voted to select Knowledge Based Economic Development, or KBED, as the winner of its Award of Excellence for Innovation for an event series that brings Kansas State University faculty and staff together for interdisciplinary collaboration and economic development.

KBED was established in 2008 to align the city of Manhattan's strategy for economic development in a way that capitalizes on the university's research strengths and the area's growth opportunities. It is a combined effort by the city, the Manhattan Area Chamber of Commerce, Kansas State University, the Kansas State University Institute for Commercialization, the Kansas State University Research Foundation, the Kansas State University Foundation and the North Central Kansas Community Network. The award-winning event series was created in 2010, and 24 meetings involving more than 900 faculty members have built teams to pursue large research proposals and industry partnerships. Event topics ranged from unmanned aerial systems to gerontology to pet food.

Kansas State University competed against similar programs from Ohio University and the University of Wisconsin system for the national distinction. The stiffest competition in the category, however, was from another Kansas State University program, Technology Acceleration Partners, or TechAccel. The university co-founded the startup company in 2014 to transfer university research in the animal health, agriculture and food ingredient sectors into products that U.S. and international companies can take to market. The university's Institute for Commercialization, known as KSU-IC, was instrumental in facilitating both KBED and TechAccel.

"Having two programs as finalists in this category demonstrates the level of collaboration at K-State to both reach our research goals and ensure that research success translates to economic growth in our state," said Peter Dorhout, the university's vice president for research.

"Our economic development efforts have become a model for others in the country, and we look forward to future success from KBED and KSU-IC as we work to become a Top 50 public research university," Dorhout said. "A recent Wall Street Journal article noted how we can attract entrepreneurs by focusing on people, purpose and partnerships, and this recognition confirms that."

The Manhattan-Kansas State University relationship has been recognized as one of the top five "town and gown" relationships in the country by the Princeton Review. KBED and KSU-IC have fostered that relationship through both the events series and TechAccel.

Rebecca Robinson, director of economic development at KSU-IC, said the event series helped establish numerous research teams that have led to 35 grant proposals submitted or in development to date with a total potential monetary value of more than $36.3 million. Kansas State University has been awarded $2.1 million in research funding awards from new interdisciplinary grant proposals, and five statewide, regional or international conferences were established as a result of interactions from the event series.
Robinson said the event series provides a unique venue for faculty interaction.
"Like all universities, we have clusters of research strengths, but like most universities, they aren't always well organized or leveraged," Robinson said. "We knew that if we could help bring together groups of faculty interested in similar topics, there were tremendous opportunities to advance the university and economic development. After a few events, we found that the conversations happening at those events weren't happening anywhere else on campus."

According to Robinson, the university's contribution to the area's economic growth includes providing access to research, students and training.

"We also focus on the university's commitment to identifying faculty and staff whose expertise makes them good partners for prospective businesses," she said.

Robinson made a presentation at the University Economic Development Association's annual meeting to state Kansas State University's case for the national honor. Robinson was also appointed to the association's board of directors at the meeting.

For more information about KBED and Manhattan's economic development strategy, visit pickmanhattan.com.