Textron Aviation makes $150,000 gift to Kansas State Polytechnic
Thursday, Oct. 13, 2016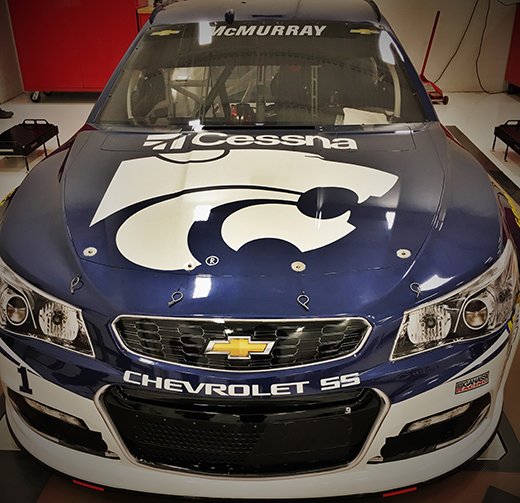 Kansas State University's Powercat logo will be featured on the hood of the Textron Aviation NASCAR for the race Sunday, Oct. 16, at the Kansas Speedway.

MANHATTAN — Textron Aviation is further strengthening its relationship with Kansas State University through a $150,000 donation to help the Kansas State University Polytechnic Campus modernize its aviation program in the sky and on the ground.

Textron Aviation's generosity will dramatically increase the square footage of the Certified Flight Instructor, or CFI, Lab, creating more workspace for flight instructors and a better learning environment for students enrolled in the program. This will strongly impact student recruitment at Kansas State Polytechnic and the future of the aviation industry.

The Powercat logo also will be featured on the hood of the Textron Aviation NASCAR for the race Sunday, Oct. 16, at the Kansas Speedway, another example of Textron Aviation's continued support for the university.

"We've had a long relationship with K-State and we look forward to deepening our ties as the school continues training the next generation," said Doug May, vice president of Piston Aircraft at Textron Aviation. "The modernization of the CFI Lab will not only provide a more functional learning environment and workspace, it will be instrumental in the recruitment and retention of Kansas State Polytechnic students."

The renovation of the Certified Flight Instructor Lab will allow it to act as a multifunctional space for the campus. The lab will be adjacent to the Flight Operations Center, home to one of the longest aviation runways in the country. It will positively affect every flight student on campus and be a showpiece of the flight program.

"We are truly thankful for our partnership with Textron Aviation for providing us with outstanding airplanes to fly, but more for the outstanding donation which will help us upgrade our CFI area," said Bill Gross, professor and chief pilot, Kansas State Polytechnic. "The CFIs have been working with limited briefing space to do a proper job with pre-and post-flight briefings for their students. The added space will benefit the CFIs and, most importantly, the students."

Philanthropic contributions to Kansas State University are coordinated by the Kansas State University Foundation. The KSU Foundation was established in 1944 as the official fundraising arm of the university. It is a separate, independent entity chartered by the state of Kansas as a 501(c)(3) nonprofit education corporation. The foundation is leading Innovation and Inspiration: The Campaign for Kansas State University to raise $1 billion for student success, faculty development, facility enhancement and programmatic success.