Best by design: Kansas State University APDesign programs shine in latest rankings by DesignIntelligence
Friday, Oct. 7, 2016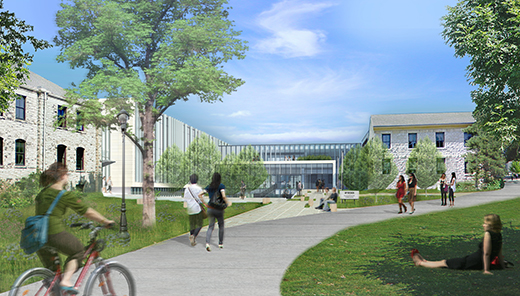 When construction is finished in 2017, Regnier Hall will adjoin the expanded east side of Seaton Hall, doubling the College of Architecture, Planning & Design's square footage.


MANHATTAN — The graduate programs in architecture, interior architecture and landscape architecture offered by Kansas State University's College of Architecture, Planning & Design are among the best in the nation, according to annual rankings by DesignIntelligence.

In addition, DesignIntelligence has selected two of the college's faculty members as among the most outstanding educators in the nation. Tim De Noble, dean of the college, and Stephanie Rolley, professor and head of the landscape architecture and regional & community planning department, were named to DesignIntelligence's 25 Most Admired Educators for 2016-17. Kansas State University is one of only three institutions — and the only public university — with two faculty members to make this distinguished list.

DesignIntelligence rankings for the college, which is also known as APDesign, tab it as the nation's No. 5 graduate program in landscape architecture and No. 7 graduate program in interior architecture. The graduate program in architecture is No. 18. Kansas State University is one of only four schools to be ranked in the top 20 on all three of DesignIntelligence's graduate program lists.

"We are proud of the once-again lofty national rankings of the programs in landscape architecture, interior architecture and architecture, reflecting not only the consistent quality of our programs but the impact our graduates make in their respective disciplines," de Noble said. "I am most excited by the fact that our programs' national rankings amongst public institutions — landscape architecture, No. 2; interior architecture, No. 1; and architecture, No. 7 — reflect not only the quality of our faculty, staff, students and alumni, but speak to the incredible value proposition inherent in studying at Kansas State University's APDesign."

DesignIntelligence's rankings are based on surveys from 2,920 hiring professionals, 145 deans and department chairs, and 3,742 students in the design disciplines. Hiring professionals were asked to rank which schools are best at preparing students for a future in the profession; deans and department chairs were asked what programs they most admire; and students were surveyed on their satisfaction with the educational institution in which they are currently enrolled or graduated from in the past year.

De Noble, who has served as dean of APDesign since July 2009, was cited for making excellent impressions on students and their parents; for being a campus leader who brings together practitioners and professors in ways that convey respect for the future of the design professions; and for the enthusiasm he generates among his college's alumni.

"I am very proud to read the DesignIntelligence rankings of our Kansas State University programs. I also congratulate Professor Rolley and Dean de Noble," said April Mason, university provost and senior vice president. "Tim de Noble is providing the vision and motivation for the excellence recognized by DesignIntelligence. I watch the progress of the new facility being built for these fine programs and know the excellence will continue for years to come."

Rolley, a professor who has served as head of the landscape architecture and regional & community planning department since June 2009, was cited for her communication excellence in landscape architecture and collaboration across all designs. She also was noted for her success in drawing future professionals to the program and the high regard she has earned from students and faculty. Rolley has been a member of the university's faculty since 1988.

"It is fitting that Stephanie adds yet another well-deserved national accolade to her résumé," de Noble said. "Stephanie is a world-class educator and educational administrator, effectively parlaying her expertise and extensive experience to transform the professions of practice and education. Stephanie's example of advancing both the academy and the profession through collaborative experience is a model for all."

The Kansas State University graduate programs also earned high marks in several subcategories. The graduate architecture program ranks No. 8 in educating students who know about construction methods and materials. The landscape architecture program ranks highly in several areas: No. 2 in computer applications, construction methods and materials, and cross-disciplinary skills; No. 3 in communications skills; No. 4 in planning; and No. 5 in sustainable design practices and principles.

APDesign students also gave their programs high marks, with 100 percent of students surveyed in interior architecture and landscape architecture saying they believe they will be well prepared for their professions upon graduation.

"These rankings are the latest in a long tradition of national prominence gained through the quality of our programs," de Noble said. "In the next academic year we will be situated in our newly revitalized Seaton and Regnier halls, facilities reflecting our values and reputation and supportive of our capacity to lead the nation in design and planning education."