Kansas State University's interior design program ranks among top 10 in nation
Monday, Oct. 10, 2016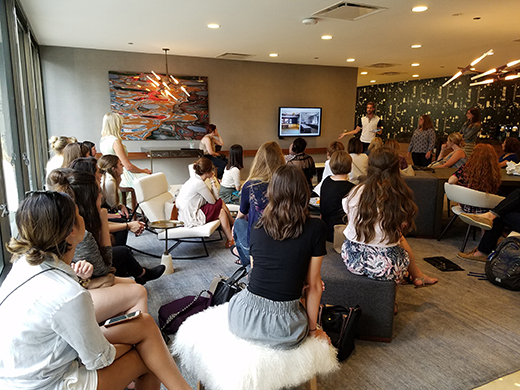 Kansas State University interior design students tour a design firm in Chicago.The university's interior design program is one of the highest rated in the U.S. in the latest rankings from DesignIntelligence. | Download this photo.


MANHATTAN — Kansas State University's interior design program continues to be one of the best in the U.S. According to the 2016-17 rankings from DesignIntelligence, the program ranks third among undergraduate interior design programs at public universities. It ranks eighth — in the top 5 percent — among all undergraduate interior design programs nationally.

DesignIntelligence prepares the rankings and other findings for its America's Best Architecture and Design Schools based on survey responses from hiring professionals, deans, department heads and design students. The survey asks hiring professionals to rank which schools are best at preparing students for a future in the profession and for designing a sustainable future.

According to the 2016-2017 DesignIntelligence report, 75 percent of employers indicate that it is somewhat or very important to them that their employees graduate from a program accredited by the Council for Interior Design Accreditation. Kansas State University's interior design program provides the only undergraduate degree in the state of Kansas with Council for Interior Design Accreditation.

Kansas State University's program, in the College of Human Ecology, offers a four-year, undergraduate degree that prepares students to join the design workforce immediately upon graduation.

"We regularly hear from employers about how well prepared our graduates are when they enter the workforce," said Bryan Orthel, interior design program coordinator. "Our alumni tell us they are pleased to have received a well-rounded understanding of design — from how to prepare a set of construction documents to how to contribute in a dynamic team environment. More than that, what we do in our classrooms challenges what and how students expect to learn. How we teach reshapes students' understanding of the opportunities presented by design. As a result, our graduates are knowledgeable and ready to create solutions that positively impact how we live."
"We are proud of our interior design program as it continues to prepare exceptional students to make a difference in an increasingly challenging world," said John Buckwalter, dean of the College of Human Ecology.

In Kansas State University's interior design program, students complete courses with focused content in materials and methods of construction, building codes and regulations, sustainability, and meeting human needs. Students in the program frequently participate in internships with design companies around the nation and in global study tours. These experiences prepare them to work in a diverse, global economy.

"We are fortunate to have faculty members who are active professionals as mentors to our students and alumni," said Barbara Anderson, department head for the apparel, textiles, and interior design department. "Because the interior design faculty members are engaged in professional practice, research, and national and international leadership roles, they are able to prepare our students for a dynamic profession."
The university's interior design program uses an integrated education approach requiring students to learn how a sustainable environment improves the health and well-being of an aging population that includes all people. In the DesignIntelligence survey, almost half of the surveyed deans and department heads noted that sustainability/climate change and an aging population as the two most-concerning issues facing the design professions.
DesignIntelligence is published by the Design Futures Council, a think tank of industry leaders dedicated to anticipating and preparing for future trends in architecture and design. The council conducts the survey annually.